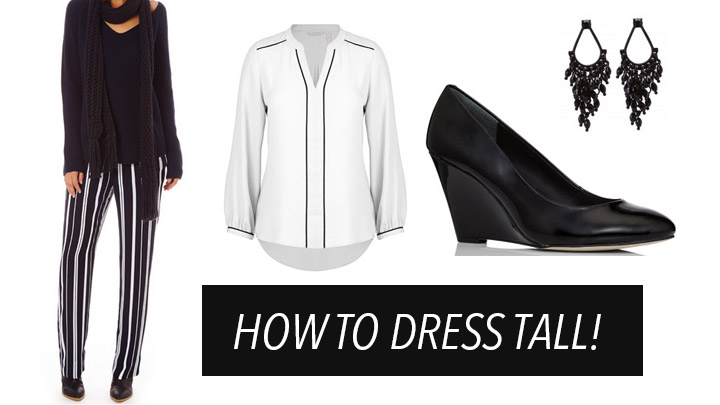 When it comes to dressing – always choose clothes suited to your body type if you want to look your best! Generally those of us who are vertically challenged want to look taller. Starts at 60 Style has the perfect tips and tricks to help you achieve just that!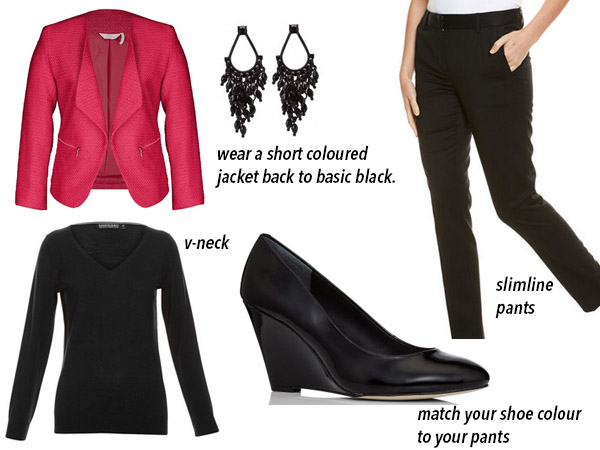 Millers Waterfall Boucle Jacket
Price:  $55
Size:  10 – 18
Colette by Colette Hayman Grad Bead Drop Earrings
Price:  $12.95
Sportscraft Alice Pants
Price:  $149.95
Size:  6 – 18
Diana Ferrari Nakisha Wedge Court
Price:  $139.95
Size:  5 – 11
Sportscraft Lucinda Merino V-neck
Price:  $90.96
Size:  XS – 22
Match your shoes to your pants
Match your shoe colour to your pants. This will make your legs look longer.
Wear slim fitting pants & a-line skirts.
Choose straight leg or slim fit pants with a high waistline. Avoid tapered legs as they can make you look dumpy when you are not. A-line skirts are great. You want to elongate the legs.
Choose monochromatic looks.
Wear all one colour. A clean monochromatic look with uninterrupted lines will give the illusion of height, as opposed to dividing your body up with lots of different colours & patterns.
Dark colours like black, navy & charcoal are lengthening & slimming.
Try wearing a matching top & pants in one solid colour like black underneath a different coloured jacket.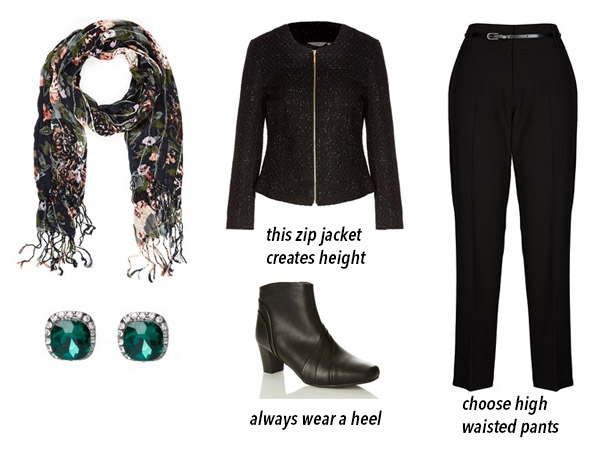 Crossroads Sequin Flower Scarf
Price:  $24.95
Millers Boucle Zip Jacket
Price:  $55
Size:  10 – 22
Millers Short Belted Stretch Luxe Pants
Price:  $35
Size:  8 – 22
Millers Kimberly Dressy Boot
Price:  $50
Size:  37 – 41
Colette by Colette Hayman Cushion Stone Studs with Diamantes
Price:  $7.95
Choose long necklines
Look for deep necklines like v-neck . Avoid boat necks, crew & other horizontal necklines.
Choose proportions carefully
Be away of proportions – keep the lower half longer than the top half.
Do not cut your body in half.
Thou shalt not EVER wear ¾ pants or skirts that finish mid calf!
Doing this makes everyone look shorter! No, no , no!!!
Wear shorter hair
Don't forget your hair – long hair down your back can make you look shorter than you actually are! Keep your hair above your shoulders by either having it cut or wearing it in an updo.
Wear more form fitting clothes
Wear more form fitting clothes! Yes choose garments that define your figure rather than hide it. You will be surprised how much height this will add to your look.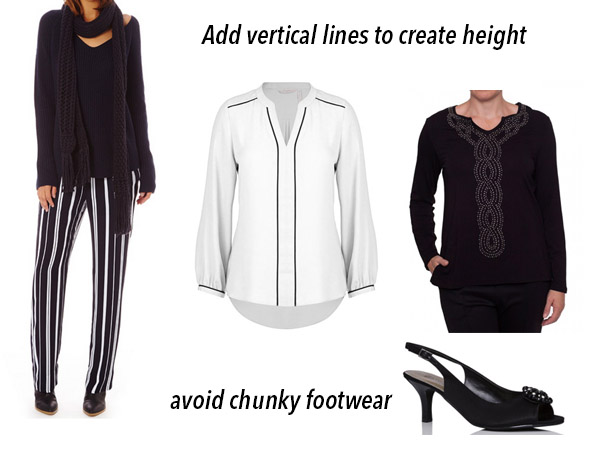 Glassons Stripe Slouch Resort Pant
Price:  $49.99
Size:  6 – 14
Millers Placket Blouse
Price:  $30
Size:  10 – 22
Black Pepper Admire Beaded Top
Price:  $89.95
Size:  8 – 20
Easy Steps Actress Peeptoe High Heel Slingback
Price:  $119.95
Size:  5 – 11
Choose vertical lines
Create vertical lines with accessories like scarves and jewellery. Vertical lines draw the eye up and down the body which causes the eye to take in more height than width, creating the illusion of greater height. Vertical stripes work especially well from the waist down. Try choosing pinstripe pants and pleated or gored skirts.
Wear heels & avoid chunky shoes
Always wear a heel – even if it is just a small wedge, it will add to your height. I know that you probably don't want to hear this as heels can be extremely uncomfortable – but you will look taller if you do!
Try to keep your footwear fine. Avoid chunky heels. No ankle straps.
If dressing taller is your goal, go through your existing wardrobe now & remove all items that do not fit in with the above tips, and start dressing taller today!