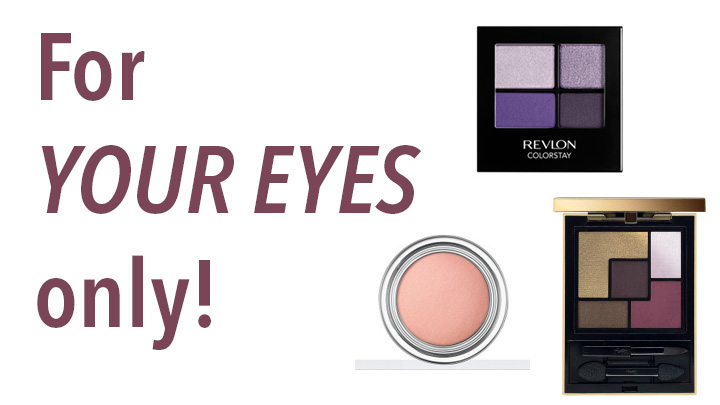 One of the best ways to look younger and more vibrant as we get older, is to be sure to wear colours that flatter us. This doesn't only apply to our clothes and accessories but to our eye make-up as well!
Where choosing the correct eye colour to enhance our eyes may once have been a bit of a gamble, now it will be easy when you follow these fantastic tips:
The key is to give your eyes some definition – groomed brows, luxurious lashes, and some colour on the lids. Give more definition to the upper eye line than the lower eye line.
Avoid anything with a red undertone as it will make your eyes look sore and tired.
There will probably be a shade of purple that will suit you!
Avoid anything with lots of shimmer.
No harsh lines, go softly and blend well.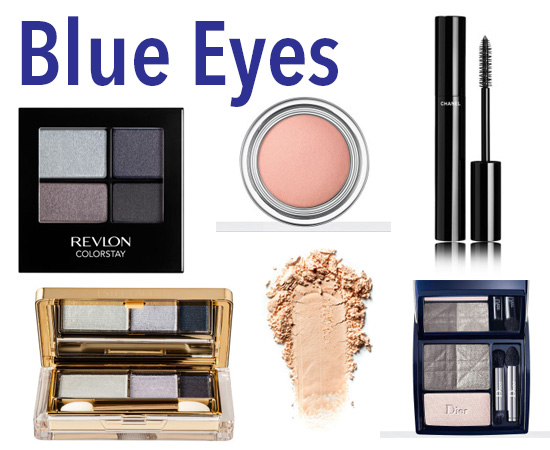 BLUE EYED BEAUTIES
Best colours
Look for soft neutral tones!
Champagne and soft corals are great for vivid blue eyes.
Steely greys and silvers are wonderful for grey/blue eyes.
Charcoal liners can be kinder than black.
Soft browns/taupes.
purple.
Avoid blue eye shadow as a general rule, but dark blue mascara will bring out the blue of your eyes!
Revlon colorstay 16 hour eye shadow in siren
Estee Lauder pure color eye shadow trio in artic zinc
Dior diorshow fusion mono in fantaisie
Bobbi Brown eye shadow in shell
Chanel le volume de chanel mascara in bleu
Dior smoky eye colour palette in smoky pink
Available here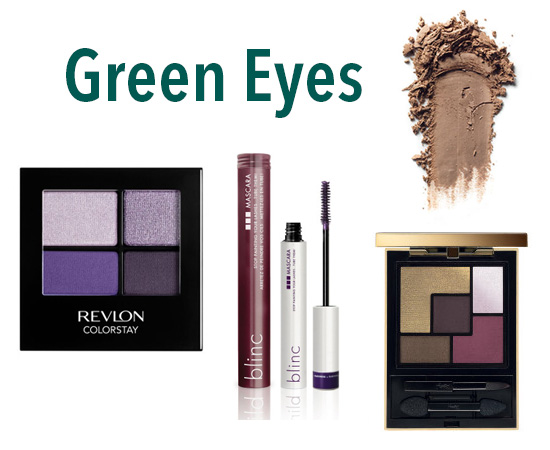 GREEN EYED BEAUTIES
Best colours
Purple is probably your best shade!
Taupe
All shades of purple
eggplant
Brown/bronze
silver
Try some purple close to the upper lash line or some purple mascara to really make your eyes sparkle! Brown eyeliner is especially flattering.
Revlon colorstay 16 hour eye shadow in seductive
Blinc mascara in dark purple
Yves Saint Laurent palette collector in multi
Bobbi Brown eye shadow in taupe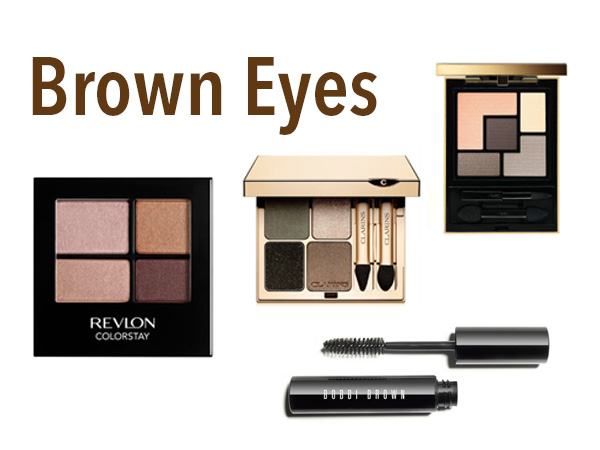 BROWN EYED BEAUTIES
You will find that most colours will work well for you, but look for shades that will enhance
any golden undertones!
Go for warm tones of bone, champagne and salmon.
green with gold undertones
Chocolate, soft bronze
Black eyeliner and mascara will make eyes sparkle.
Revlon colorstay 16 hour eye shadow in decadent
Clarins eye quartet mineral eye palette in forest
Yves Saint Laurent colour palette existing harmony in afrique
Bobbi Brown everything mascara in jet black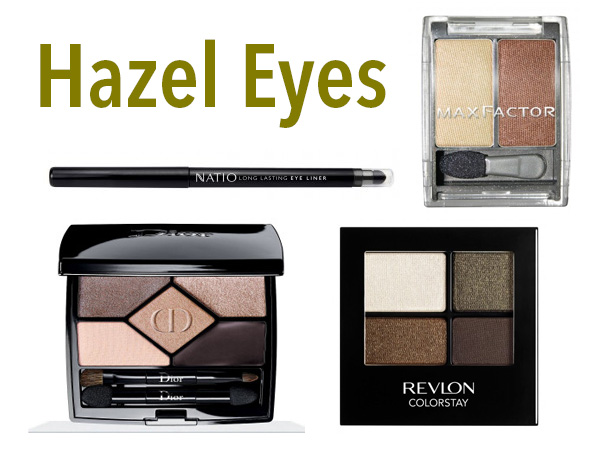 HAZEL EYED BEAUTIES
You want to highlight the green and gold flecks in your eyes!
Creamy bones and soft metallics.
Browns and with hints of gold, green or bronze.
Dusty pinks.
Warm autum colours in pastel shades.
Define your eyes with rich brown eyeliner and black mascara to enhance your eyes beautifully.
Natio mechanical long lasting eye liner in brown
Dior 5 couleurs designer artistry palette in nude pink
Revlon colorstay 16 hour eye shadow in adventurous
Max Factor colour perfection duo eyeshadown in supernova pearls
Did you already know what colours suited you? I wish someone had told me this years ago!