Do you like to wear crinkle fabrics? Or do you think they look unkempt?
I like them as they are a totally modern fabric built for the busyness of our everyday lives. They are easy-care and as their name suggests – don't require any ironing, which in my books is utterly fantastic!
This season is perfect to embrace the crinkle look as it is in tune with the boho chic trend. Let Starts at 60 Style share with you the art of wearing crinkle successfully!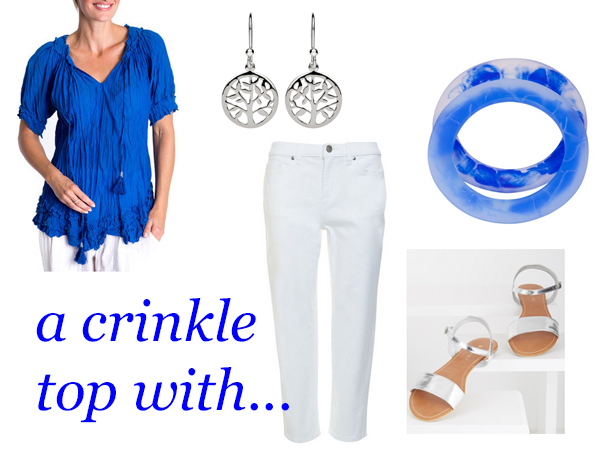 Adrift panama top in cobalt
Sportscraft simone crop jeans
Billini tabitha flat
Najo spring time earring
Polka Luka sakura double bracelet set
1 Don't wear double crinkle!
I would avoid this as a general rule as it can go horribly wrong.  Instead, choose one statement piece – like a pant, cardi or a scarf to add some interest to your look.  A cool crinkle summer dress is perfect in an Australian summer!
2 You want obviously crinkly
Ensure that what you have chosen looks obviously crinkly and not like you have been too lazy to iron it.
Some things are best left on the rack – in the shop!  Choose wisely by avoiding cheap fabrics which will not hold their shape and never look good.  Some cheap crinkly skirts can flatten out when you sit down, which spoils the look.
Adrift St Helena pant
Vigorella mesh long draped cardigan
Millers lace back top
Tiny and I nice bead necklace
TS14 small glitterati cross body bag
3  Don't forget to accessorize!
Jewellery will help pull your look together creating a polished appearance
4  Go for colour or a print
Aside from black and white, I would recommend going for a gorgeous bold colour or an interesting print.  Try to avoid wishy-washy colours, they don't come up as well.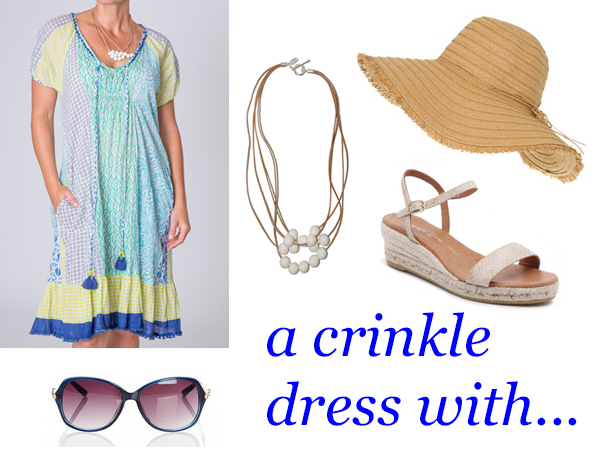 Adrift aquila dress in navy
Fuzen porcelain cluster necklace
Sofia Cruz moli beige wedge
Kooringal ladies wide brim kata hat
Millers bambi glam sunglasses
 Do you wear any crinkle clothes?  What do you like about them?