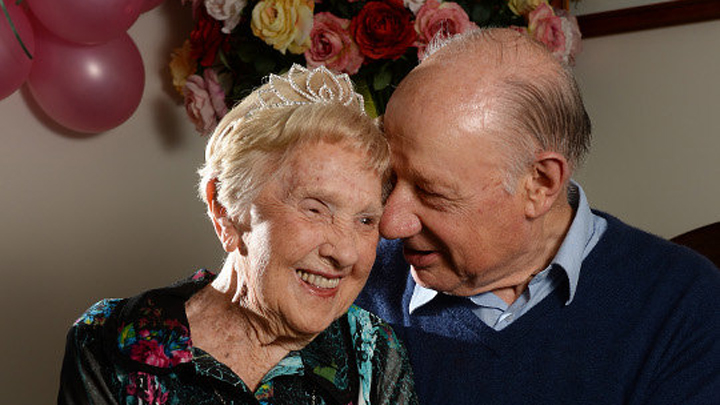 I've only recently learned of the sad passing of Melbourne woman Marjorie Hemmerde last year at the grand old age of 106.
Yes, a jolly good innings by any yardstick and if life begins at 60 for many, in one very significant way life began at 104 for dear Marjorie. In that year she met her very own toy boy at the retirement home where they both lived and romance blossomed despite the fact that Gavin Crawford was 33 years younger; a mere youngster of 71.
Neither had been married and one could reasonably presume that at their ages, meeting Mr or Miss Right would be, well, fairly unlikely. But Marjorie and Gavin clicked right away and last year were interviewed and they posed for pictures carrying on like love-sick teenagers. They couldn't keep their hands off each other.
I remember thinking at the time, "What would her mother think?" which I then realised was a bloody silly thing to think.
Gavin is a gent of the old school and loved presenting his girlfriend with flowers, holding hands and stealing kisses. "Marjorie is very outgoing and has a good outlook on life. She is always very cheerful and appreciative and we laugh together all of the time. I think we have learned that life is far too short not to enjoy it," he said. He called her "my princess".
Marjorie, who obviously believed that true love was worth waiting for, was quite brazen about the affair. "We sort of melted into each other. We get along like old friends," she said. "Melted into each other" – I mean is that the sort of thing you expect a respectable lady of 104 – and a former librarian – to say?
And if that wasn't enough, when Marjorie was asked if she and Gavin would tie the knot she had a very firm view, saying, "I'm too irresponsible. I quite like living in sin".
If your 16 year old granddaughter said that about her and her latest squeeze you would be shocked and disgusted and appalled and all of that, right? But when a lady of 106 says it we all cheer, even if quietly.
Traditionally, we expect that in a relationship the man is a wee bit older than the woman. That's the way it's always been and, even today, that's the way it usually is. We are all used to doddering old male duffers getting all leery around pretty young things and even trying to have a relationship. Hugh Hefner of Playboy publishing fame is the clear leader here. In 2008, at the age of 82, he took up with Crystal Harris who is a mere 60 years his junior. It was a busy time for Hugh because he was also dating 20 year old twins, the models Kristina and Karissa.
But there are more and more women like Marjorie – and good luck to them.
According to a survey by the UK magazine, New Woman two-fifths of women interviewed said that they had had a fling with a younger man and three-quarters of those said that the men they dated were at least five years younger while one-fifth said the age difference was more than a decade which is really getting into "toy boy" territory.
This survey also found that women who had dated younger men were more "body conscious" and a huge 70% said had "extra concerns" about their looks. Perhaps not so surprising was the finding that 64% of the women believed that younger men secretly fancied older women. I bet that 99% of men secretly believe that younger women fancy them – and I don't need a survey to prove it.
Madonna is a standard-bearer for the ladies who like toy boys – after she divorced director Guy Richie, who was ten years her junior, she took up with Brazilian model Jesus Luz when he was 27 and she was 50. Sadly, this relationship only lasted a year and they split up because apparently they had little to talk about. Perhaps the Material Girl should have learned Portuguese or Jesus should have learned English – it is my experience that having a common language in a relationship is rather a big help in the conversation department.
Currently, my pin-up girl in the "toy boy" stakes is UK woman Patricia Moss who, at 60, spent 20,000 pounds (about AU$36,400) for a complete body overhaul.
"I have no intention of slowing down. Dating toy boys keeps me young and I've always found them far more energetic in the bedroom. I can't imagine going out with a man my age or, even worse, one who is older. Younger men are much more exciting," she said.
Am I wrong in surmising that wherever dear Marjorie is, she would be cheering Patricia on? And, sincerely, I do hope that Gavin has found a reason to laugh again.
What do you think about age gaps between partners? Do you have an older husband or wife? Or a young one? Tell us your thoughts below!