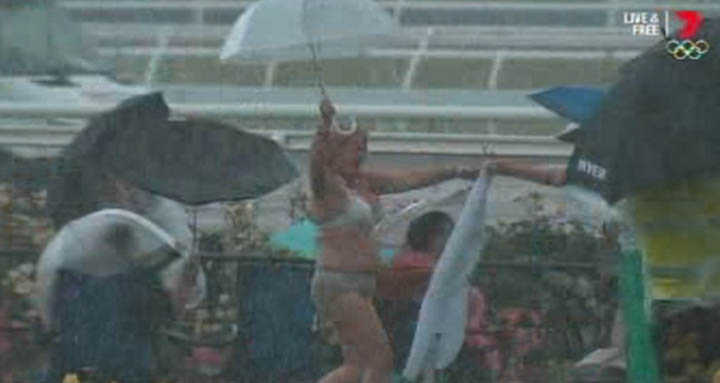 It's Oakes Day in Melbourne, and it's pouring with rain. So the Twittersphere is going a little nuts with stories of older women stripping off, and replacing high heeled shoes with flippers. There is women wearing hats, with umbrellas on top everywhere… We've got the best Tweets mocking Oakes Day here. Have a laugh with us. It was so good we had to share.
Would you strip off at the races like this?
Hottest new fashion accessory for #OaksDay! @TahnyLew pic.twitter.com/w5w4jkAyZK

— UBET (@UBET) November 5, 2015
When your dress gets wet, what else is there to do at the races but strip off? @tennewsmelb #OaksDay #springracing pic.twitter.com/bGynEkP49C

— Candice Wyatt (@CandiceWyatt10) November 5, 2015
Things getting out of hand at Flemington… #OaksDay pic.twitter.com/RGbywg47lj

— Sportsbet.com.au (@sportsbetcomau) November 5, 2015
Out at #OaksDay? @BOM_Vic has some bad news for you. Send us your pics https://t.co/9VkrjxeLA2 @TomCowle pic.twitter.com/RFgmjf0eHf

— The Age Sport (@theagesport) November 5, 2015
A quick shot of the horses arriving for #OaksDay… pic.twitter.com/TaNqklxy1S

— Sportsbet.com.au (@sportsbetcomau) November 4, 2015
#OaksDay = Soaks Day (pic ex @theheraldsun pic.twitter.com/iF5U8A2xFJ

— Johnny Boy (@GeeForce77) November 5, 2015
Get stuffed chauvinists @Knightcartoons via The Herald Sun #auspol #SpringCarnival #OaksDay #chauvinism #sexism pic.twitter.com/3LM8uSImcz

— Stan Steam (@StanSteam2) November 4, 2015
And finally, because we felt obliged… The Fashion on the field winners!
Congratulations to Fashion on the Field winners @FlemingtonVRC #oaksday #FOTF Photos by @EddieJim2 pic.twitter.com/3jIqmGHKK1

— The Age Photography (@theage_photo) November 5, 2015