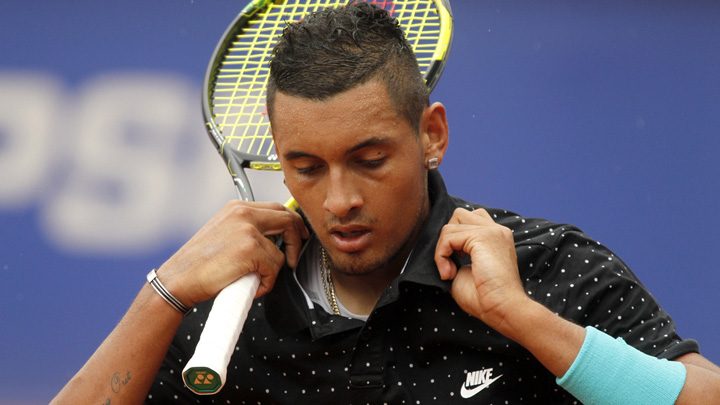 Australian tennis star Nick Kyrgios has been making headlines for his antics on court, and sometimes even off it. But with his latest display of bad behaviour at the Shanghai Masters where he suffered a bizarre straight set loss, tennis officials have had enough and have banned him from playing – for the rest of the year.
Read more: Nick Kyrgios slams his critics after latest loss
The 21-year-old has been banned from the ATP Tour for eight weeks, and was also slapped with an additional $US25,000 ($33,000) fine for "conduct contrary to the integrity of the game", the ATP said in a statement, which comes on top of $21,810 in fines he had already received.
The ban can be reduced to three weeks, but only if Kyrgios "enters a plan of care under the direction of a sports psychologist."
"Following the completion of its investigation into Nick Kyrgios' second round match last week … the ATP has announced that Kyrgios has been found to have committed the player major offense 'Conduct Contrary to the Integrity of the Game'," the ATP said in a statement.
"The offense means that Kyrgios receives an additional fine of $US25,000 and is suspended from ATP tournaments for eight tournament weeks, effective from today, Monday 17 October, 2016, through to Sunday 15 January, 2017."
The announcement follows a probe into Kyrgios' performance against German Mischa Zverev, in which the Aussie fell 6-3 6-1 in 48 minutes and appeared to give up on a number of occasions.
At one point, he lobbed a serve over the net and walked off the court before his opponent fired a winner.
Later, he engaged with the crowd after they began booing him, telling fans that if they knew what they were talking about they would be on the court, not in the stands.
He tweeted an apology after the match, admitting it was "not good enough on many levels".
Kyrgios, who became the first player to be suspended for behavioural issues since John McEnroe in 1987, released a statement on Monday afternoon apologising for his behaviour.
"The season has been a long one as I battled several injuries and other challenges towards the end of the summer.
"The Asian circuit was particularly tough after the long week and win in Tokyo and with the travel throughout the continent, my body finally just gave out in Shanghai both physically and mentally.
"This is no excuse, and I know very well that I need to apologise to the fans – in Shanghai and other parts of the world – as well as the tournament organisers in Shanghai who do an amazing job.
"I of course know how important the fans are to the success of our sport and I personally love the interaction with fans in the many different cities throughout the world on the tennis circuit."
What do you think about the punishment and Kyrgios' statement? Is it enough?