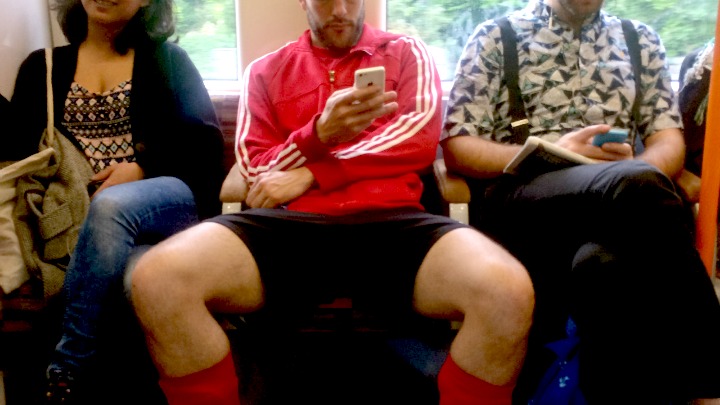 We're not sure whether to laugh or cry about the new rules for public transport in New York. On the one hand, the long arm of the law has reached out to stop anti-social behaviour. On the other, we actually need a law to enforce what was only recently considered common courtesy.
You know what we're talking about, right? People (usually blokes, let's face it) taking up more than their fair share of space on the train or the bus.
They're calling it "manspreading" and already people are being arrested for the offence in NYC.
It's not like they weren't warned – earlier this year, New York's metropolitan transportation authority began placing posters on public transport asking men to be a little more considerate of others.
The posters read, "Dude, stop the spread".
Since then at least two men have been arrested and charged for "taking up more than one seat and therefore inconveniencing other riders".
Reports say the men weren't fined but received a warning they would suffer further repercussions if they were arrested again in the near future.
INCREDIBLE! He's pushed the #manspreading to record levels. Woman next to him adopts suitable reply: pic.twitter.com/5fGLrxeMnL

— Gaz Weetman (@GazWeetman) May 26, 2015
The new law was the result of that great tool of democracy, you guessed it, Twitter. A New York resident started snapping surreptitious pictures of blokes chucking a spread on the subway, hash-tagging it #manspreading. Others caught on, but the movement really gained momentum when actor Tom Hanks was photographed manspreading on a train:
Anyone else see Tom Hanks #manspreading on the subway yesterday? pic.twitter.com/5cmMTCW4ES

— Live Nation NYC (@LiveNationNYC) January 23, 2015
For six months, the matter was dealt with politely with posters, similar to those you'll see on Queensland rail at the moment, asking men (and other inconsiderate people) to think of others. When that didn't work, the law was put into place and officers are not afraid to use it.
Some of you may relate: http://t.co/eutaWAtWiW #ISEPTAPHILLY #DudeItsRude #SEPTA #manspreading #publictransportation pic.twitter.com/c6nU9NuihB

— ISEPTAPHILLY (@SEPTAPHILLY) June 4, 2015
  Some have suggested a new law is needed to combat women who take up too much space with their handbags. aka "shebagging".
#shebagging shut up about #manspreading pic.twitter.com/URB1OQFRiu

— Men's Rights Quincy (@cjn159u) May 31, 2015
The "manspreading" offence is part of a crackdown on anti-social behaviour that includes break dancing, walking between carriages and putting feet on the seats.
Tell us: would you like to see a law against manspreading here in Australia?