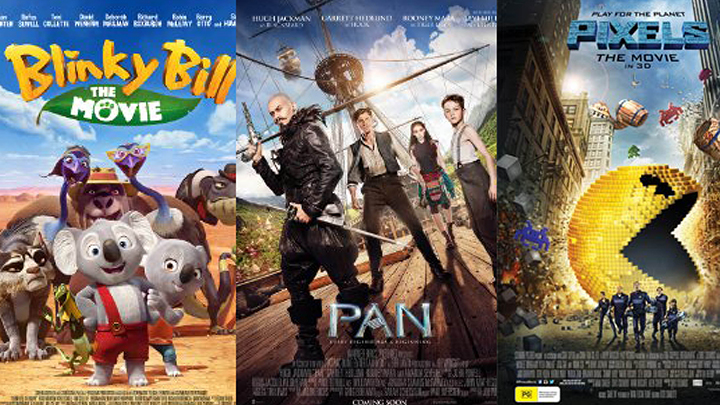 Can you believe that school holidays are just around the corner? As grandparents, it's our job to help entertain the grandkids but we don't always have the energy to run around with them all day. We find movies are a great activity that allow us to bond with them whilst helping keep them happy and occupied.
Here are five great movies to watch with your grandkids these holidays.
1. PAN (PG)
Storyline
PAN is a story about an orphan who magically travels to Neverland. He is faced with adventure and danger throughout the movie but with the help of new friends he is able to find his destiny and will forever be known as a hero. This movie is different to the well-known Peter Pan animation as it's more mature and graphic similar to the Harry Potter films.
Who should watch this movie?
This version of Peter Pan is a perfect film for grandkids who love adventure, a hero and fantasy. PAN is due to hit cinemas on the 20th of September.
2. Blinky Bill (G)
Story ine
Finally, loveable Aussie Blinky Bill is taking on adventure in a movie. This young koala is on a mission to find his dad through the Australian outback. Blinky and his friends travel through dangerous landscapes and met scary wild animals but Blinky never gives up. Along the way Blinky meets a zoo koala, Nusty and a frill necked lizard, Jacko. The trio learn to work together as they survive the desert and bring the community back together.
Who should watch this movie?
This movie is perfect for the whole family. Every Australian generation have heard the story about Blinky Bill and now it is our opportunity to share it with our grandkids. Blinky Bill is due to hit cinemas on the 17th of September.
3. Oddball (G)
Storyline
Another Australian film based on a true story about a fun loving dog, Oddball, who despite getting in trouble by the community has a family who loves and believes in him. Allan "Swampy" Marsh, Oddballs' owner, believes that his dog can protect endangered Penguins who are being attacked by wild cats and dogs. Swampy knows that Oddball will succeed with this mission, it is the authority that he needs to convince.
Who should watch this movie?
This movie is perfect for the little kids but we have no doubt that this heart warming film will be liked by us grandparents too. Oddball is due to hit cinemas on the 19th of September.
4. Pixels (PG-13)
Storyline
Just like our favourite classic arcade games, such as Pac Man, this film uses aliens to attack the human race. The aliens declare war and attack earth using pixels as their source of weapons. President Will Cooper calls his best friends, who were the champions of video games in the 80s, to save the earth. The team work together with special weapons of their own to fight against the aliens.
Who should watch this movie?
This action packed movie is perfect for grandkids who like video games, humour and science fiction. Pixels is now showing in your local cinema.
5. Hotel Transylvania 2 (CTC)
Storyline
The Draculas are back with a new addition to the family. Drac is worried that his grandson, who is half human half vampire, is not showing any signs of being a vampire (i.e Fangs). In order for Drac to keep his family in Hotel Transylvania he needs to make sure his grandson becomes a scary monster just like him. But when Drac's grumpy dad comes to visit, he is not happy that his great grandson is half human – things get very scary at Hotel Transylvania.
Who should watch this movie?
This movie is perfect for children who enjoy animation, humour and vampires. Pixels is now showing in your local cinema.
Everest and Maze Runner: The Scorch Trails are two movies that could be perfect if your grandchildren are older than 13 years old!
Tell us, will you be watching any of these movies with your grandkids? Have you gone to the movies with them before?