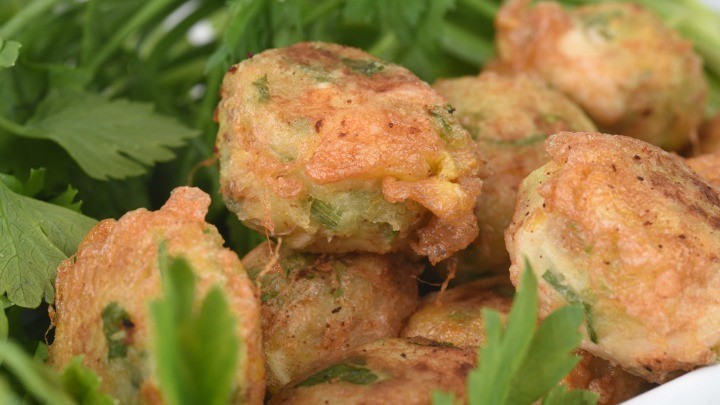 A good chicken recipe goes a long way and this one is great because it's so versatile. The patties are packed with protein, veggies and fresh herbs and get bonus health points for being gluten- and dairy-free, too! You can serve them up with whatever sides you feel like on the day. Try pairing with rice and Chinese broccoli for an Asian flavour explosion, or team with classic steamed veggies for a quick and delicious fix. Perfect!
Note: We've provided directions for frying on a stove top or baking in an oven – depending on how healthy you want to be!
Ingredients
500g chicken mince
2 cups grated zucchini (leave peel on)
2-3 spring onions, sliced
3-4 Tbsp coriander, finely chopped
1 clove garlic
1 tsp salt
1 tsp pepper
3/4 tsp cumin, optional
olive oil, for cooking
Method
1. Combine chicken with zucchini, spring onion, coriander, garlic, salt, and pepper (and cumin, if using). Mixture will be quite wet.
2. To cook on the stovetop:
Heat a drizzle of olive oil in a medium pan over medium heat. Press a heaped tablespoon-full of the mixture into a patty shape and add to pan. Cook 8-10 at a time for about 5-6 minutes on the first side. Flip and cook an additional 4-5 minutes, or until golden brown and cooked through.
3. To bake in oven:
Preheat oven to 200°C. Place a sheet of baking paper onto an oven tray and drizzle with a little oil. Drizzle a little olive onto baking paper. Press a heaped tablespoon-full of the mixture into a patty shape and add to tray. Bake 8-10 at a time for 20-25 minutes, or until cooked through.
—————————————————–
If you'd like to see more recipes from Starts at 60, click here. And if you have a recipe you'd like to share with the Starts at 60 community – we'd love to share it! Submit them to us by completing the form below.
Submit your article here
Comments