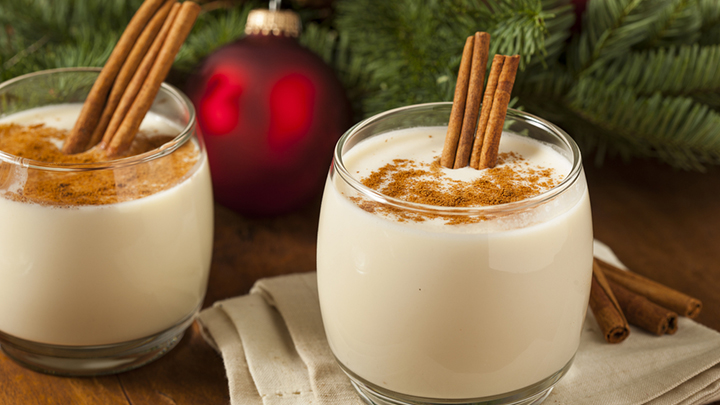 If you've ever enjoyed an American Christmas, Egg Nog you know is part of the fun but in Australia it is much nicer cold in our hot weather.  So today we're bringing you my brother's egg nog recipe all the way from America, with a little Australian chill.  You should make it tonight if you want to drink it cold on Christmas day.  
It serves 8
Ingredients
3 cups (750ml) full cream milk
1 cup (250ml) heavy or double cream
3 sticks of cinnamon
1 vanilla bean pod – split it and remove the seeds
1 teaspoon Freshly grated nutmeg  (you'll need some extra for the garnishing)
5 eggs, separate whites and yolks
2/3 (130g) cup white sugar
3/4 cup (200ml) rum or bourbon
Over flame, in a saucepan warm the milk, cream, vanilla and vanilla seeds, nutmeg and cinnamon pods.  Bring gently to the boil then turn heat off and allow the flavours to set into the milk for approximately 10-15 minutes.
In your mixmaster, beat together the egg yolks and sugar, then whisk in the milk mixture and mix until it is smooth; then add the rum or bourbon.  (We love the rum flavour in our house).
Refrigerate it overnight.
Just before serving, whip your egg whites into soft peaks then fold into the eggnog liquid.  Serve in cocktail glasses and garnish with grated nutmeg (fresh).
Cheers and Merry Christmas!
Comments