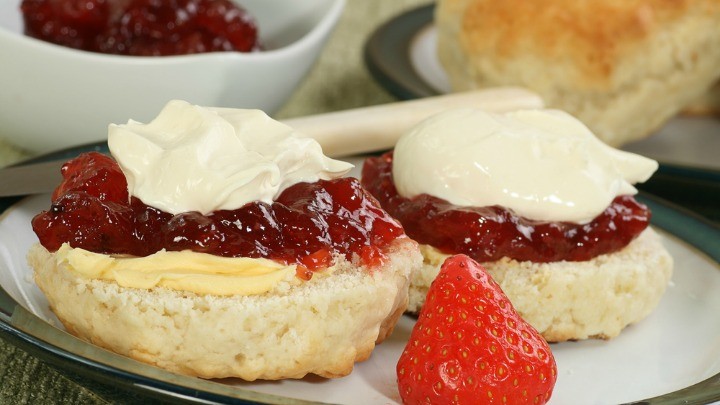 Sitting down with a cup of tea and a lovely scone with jam and cream might just be one of the best ways to spend an afternoon. For such a simple treat though, scones are often tricky to make and can turn out more like rock cakes than the beautiful soft breads they are supposed to be. Luckily, this recipe has eliminated the chances of that happening! The ingenious combination of the flour, cream and lemonade means you end up with light, fluffy scones every time. Delicious!
Ingredients
3 cups self raising flour
1 cup heavy whipping cream (not whipped)
1 cup cold lemonade
To serve
Method
1. Preheat oven to 200°C. Combine the flour, cream and lemonade in a bowl and mix until just combined. Do not over mix, it will make the scones dense. The dough should be soft and fairly sticky.
2. Turn out onto a floured surface, and gently pat down to 2.5cm thickness. Use a 6cm round cutter to cut scones. Flour the cutter in between so the dough doesn't stick. You should get 6 out of the first batch, then combine and pat out the offcuts to make another 4. (If you don't have a round cutter you can use a knife and cut scones into squares. Be sure to flour the knife in between cuts.)
3. Optional: brush the tops lightly with milk. This makes the tops nice and golden, and helps smooth the top too.
4. Place scones on a lined or greased tray, slightly touching each other (they help each other rise) and bake for 12 to 15 minutes until golden on top. Place on rack to cool. Place tea towel over them to stop the tops from getting crusty.
5. Serve with dollops of thickened cream and your favourite jam.
—————————————————–
If you'd like to see more recipes from Starts at 60, click here. And if you have a recipe you'd like to share with the Starts at 60 community – we'd love to share it! Submit them to us by completing the form below.
Submit your article here
Comments