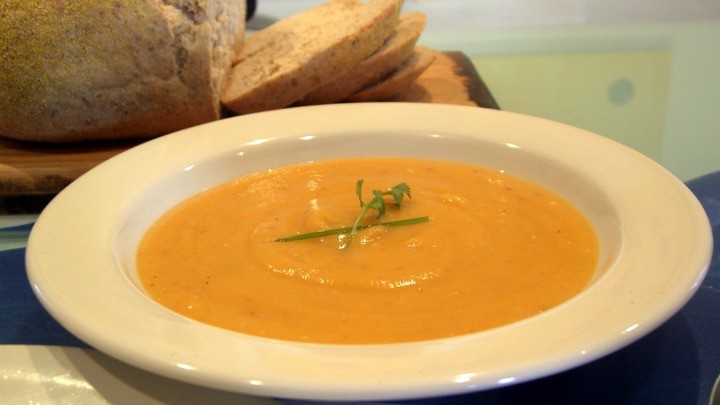 This amazing recipe was sent in by one of our community members and has the perfect twist on a winter classic. Instead of cream, this recipe calls for coconut cream, giving it a lovely smooth finish and a superbly delicious flavour. The curry powder and ginger add warm hum of flavour, while the cinnamon and brown sugar balance it all out. It may sound unusual to some, but trust us – it's a winner! Serve it up with some crusty bread and sprinkle over chopped parsley and pepper to tie it all together.
Ingredients
1 onion, roughly chopped
2 cloves garlic, diced
2 carrots, roughly chopped
1/2 butternut pumpkin, chopped
1 teaspoon freshly grated ginger
2 teaspoons curry powder
1 teaspoon cinnamon
1 tablespoon brown sugar, (Elaine says the original recipe called for 1/4 of sugar, but she chose to use less. You can use whichever measurement you prefer.)
Salt and pepper
3 cups of chicken OR vegetable stock
1 cup light coconut cream
1/2 cup flat-leaf parsley, chopped, to serve
Crusty bread, to serve
Handful dried cranberries, to serve (optional)
Method
1. Put a little oil in a large cooking pot over a medium heat. Add onion and garlic and cook, stirring for a few minutes or until soft. Add carrots, pumpkin, ginger, spices and sugar. Stir together then add stock. Cook until tender, about 20-30 minutes.
2. Carefully add mixture to a blender and blend until smooth. Return soup to pot and add coconut cream. Bring back to serving temperature and cook for 2-3 minutes.
3. Serve soup with parsley and crusty bread, and sprinkle with chopped cranberries (optional).
———————————————————
If you'd like to see more recipes from Starts at 60, click here. And if you have a recipe you'd like to share with the Starts at 60 community – we'd love to share it! Submit them to us by completing the form below.
Submit your article here
Comments