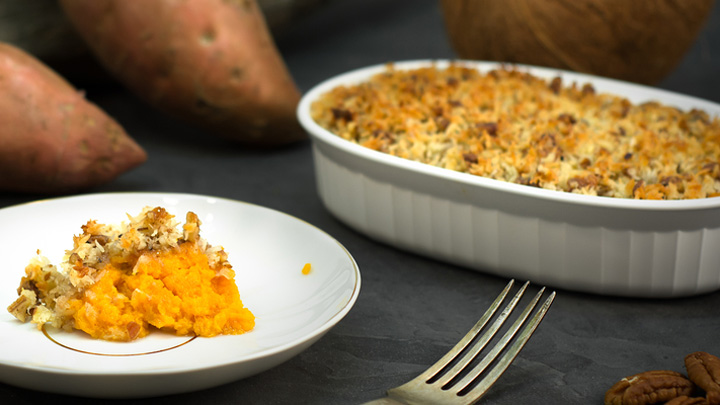 This cottage pie is an amazing, homely twist on the usual white potato pie, but tastes just as good (if not better)!
It could be a hearty Christmas dinner this week, or made ahead for lunch all week! Whichever you decide… you won't be disappointed.
Serves 4
Ingredients
1 tablespoon olive oil
1 onion, finely chopped
1 garlic clove, crushed
500g beef mince
2 tablespoons tomato paste
small pinch ground cinnamon
small pinch grated nutmeg
2 bay leaves
½ cup red wine
250g potatoes
500g sweet potatoes
2 tablespoons butter
½ cup milk, warmed
grated nutmeg (optional)
1 handful finely grated Parmesan cheese
sea salt and freshly ground black pepper
Method
1. Preheat the oven to 175 degrees. Heat the olive oil in a large saucepan and fry the onion over medium heat for 4 to 5 minutes, until soft and translucent. Add the garlic and fry for another minute.
2. Add the mince and fry until well browned. Add the tomato paste, cinnamon, nutmeg, bay leaves, and wine, and simmer over low heat for 10 to 15 minutes.
3. Meanwhile, peel the potatoes and sweet potatoes, cutting them into 1½-inch cubes. Cook them until tender. Drain the potatoes and return them to the pan. Add the butter, then while beginning to mash, gradually add the warm milk (you may not need all of it), the nutmeg (if using), and the Parmesan cheese. Season to taste.
4. Pour the beef mixture into an ovenproof dish and cover with the mashed potato. Cook in the oven for 30 to 40 minutes until golden brown and bubbling. Leave to stand for 5 minutes before serving.
Comments