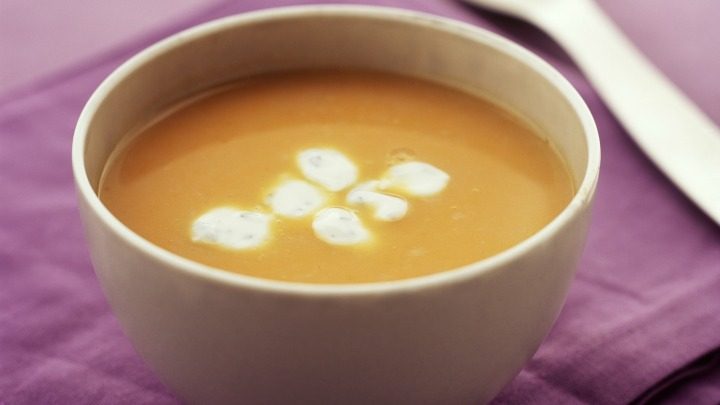 Warming soups are a must as winter creeps across the country and this recipe is sure to send a rush of heat from top to toe! Adding a twist to the classic pumpkin soup, this recipe blends in sweet potato for added flavour as well as lightly sauteed onion, garlic and ginger to really get your tastebuds buzzing. Finish the soup with a drizzle of yogurt and coriander sauce and serve it up with a side of warm and crunchy garlic bread. Delish!
Ingredients
1 onion, sliced
1 clove garlic, crushed
1 teaspoon grated fresh ginger
1/4 cup water
250g sweet potato, peeled and chopped
250g pumpkin, peeled and chopped
2 low salt vegetable stock cubes, dissolved in
3 cups boiling water
2 cups Australian skim milk
250g reduced fat natural Australian yogurt
1 tablespoon finely chopped coriander
Method
1. Saute onion, garlic and ginger in a non-stick saucepan with water until tender. Add sweet potato, pumpkin and stock and simmer, uncovered for 15-20 minutes or until tender
2. Puree mixture until smooth and return to a saucepan. Stir in milk and reheat gently without boiling.
3. Combine yogurt and coriander. Ladle soup into serving bowls and top with a swirl of coriander flavoured yogurt.

This recipe was originally published by The Dairy Kitchen. For more healthy and delicious dairy recipes, please visit the Dairy Kitchen website or follow them on Facebook.
—————————————————–
If you'd like to see more recipes from Starts at 60, click here. And if you have a recipe you'd like to share with the Starts at 60 community – we'd love to share it! Submit them to us by completing the form below.
Submit your article here
Comments