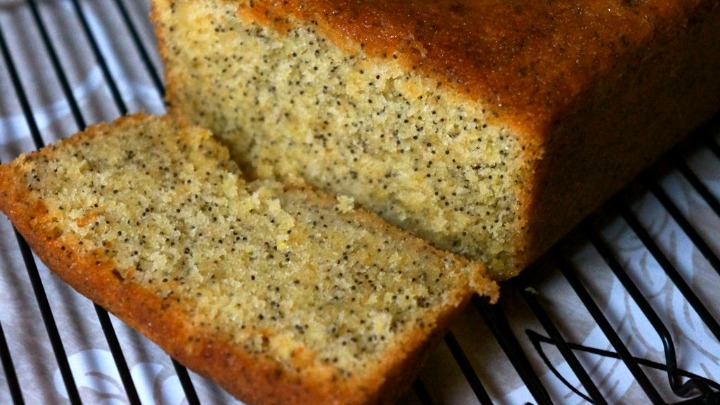 There are lots of recipes for lemon and poppy cake out there but honestly this one takes the cake (pardon the pun) as one of the all-times great. It is so moist and zesty and the amazing lemon glaze just tips it over the edge into lemon and poppy heaven. It's great to have on hand around the house for afternoon tea, or to whip up when you have guests coming over. You can serve it at room temperature or zap it in the microwave for a few seconds to warm and dish it up with a dollop of cream. Yum!
Ingredients
2 1/4 cups cake flour (available at supermarkets – it has a lower protein than other flours and is extra soft)
1 1/8 cups caster sugar
1 teaspoon salt
1 1/2 tablespoons lemon zest
4 1/2 tablespoons poppy seeds
1 1/3 cups unsalted butter, softened
5 eggs
Lemon syrup
3/4 cup caster sugar
3/4 cup lemon juice
Method
1. Preheat oven to 175°C. Grease and flour one 9 x 5 inch loaf pan. Sift together the flour, sugar and salt. Then mix in the lemon zest, poppy seeds and butter. Beat in eggs, one at a time, beating well after each addition. Pour batter into prepared pan.
2. Bake at 175°C for 1 hour and 15 minutes or until a toothpick inserted in the centre comes out clean.
3. For lemon syrup, in a saucepan over low heat; cook sugar and the lemon juice until stirring until sugar is dissolved. Let cool to just warm or to room temperature.
Remove the cake from the oven and place the pan on a wire rack-place a cookie sheet underneath this rack. Prick the top of the cake several times with a toothpick. Brush the top of the cake with the warm or room temperature syrup, allowing lots of the syrup to run down and soak into the sides and bottom of the cake. Cool slightly in the pan before removing the cake to the wire rack to cool completely. When completely cooled, wrap the cake in foil or plastic freezer wrap and let the cake rest at least one day before serving to your guests.
—————————————————–
If you'd like to see more recipes from Starts at 60, click here. And if you have a recipe you'd like to share with the Starts at 60 community – we'd love to share it! Submit them to us by completing the form below.
Submit your article here
Comments