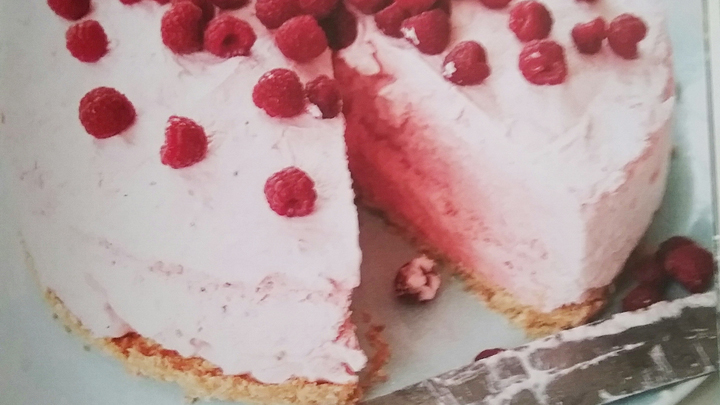 Yum! This strawberry cloud cake is incredibly flavoursome and decadent.
If you're looking for a new treat this week, why not give this a whirl?
Ingredients
150g plain sweet biscuits

1/2 cup desiccated coconut

1.5 tsp cinnamon

100g melted butter
To fill
2 egg whites at room temperature

1 cup castor sugar

250g ripe strawberries, hulled & sliced

1 tbsp lemon juice

1 tsp vanilla extract
To garnish
Fresh raspberries

Double cream
Method
Line the base of a 26-28cm springform cake tin with baking paper.
Place biscuits in food processor and process to fine crumb. Place crumbs in a bowl, add coconut cinnamon and butter. Stir well to combine.
Press firmly into base of prepared tin. It doesn't need to be a thick layer, just enough to cover bottom of tin. Refrigerate while you prepare filling.
Place egg whites, sugar, sliced strawberries, lemon juice and vanilla in a clean, dry bowl of electric beater. Beat on high speed for 6-8 minutes until very thick and fluffy  andthe sugar has dissolved. You may think this won't work, but it does. Rub the mixture between your fingers and you shouldn't feel any gritty sugar.
Spoon the filling over the base, smooth the top, cover with a sheet of baking paper and freeze for at least 4 hours – I freeze overnight. The cake will keep for up to a month in an airtight container in the freezer.
To serve, garnish with raspberries, cut cake with a knife that has been warmed in hot water. Add a dollop of double cream.
Comments