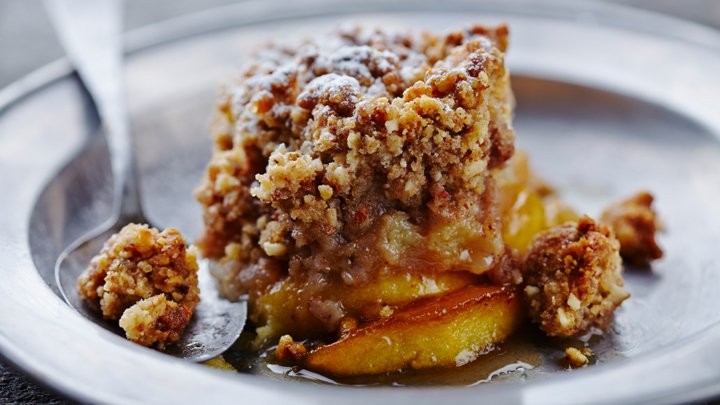 Looking for an excuse to bring out your slow cooker again? This sweet, decadent dessert – already a big favourite among the Starts at 60 community – is so rich with flavour that even smallest serve will go a long way!
Cooking time: 2–4 hours (plus 1 hour resting)
Serves: 4
Ingredients
5 large apples, peeled, cored and cut into chunks
¼ teaspoon salt
1 teaspoon ground cinnamon
1 cup (firmly packed) light brown sugar
½ cup white sugar
Vanilla ice cream, to serve
Crumble Topping
⅔ cup rolled (porridge) oats
⅔ cup (loosely packed) light brown sugar
¼ cup plain (all-purpose) flour
½ teaspoon ground cinnamon
3–4 tablespoons chilled butter, finely chopped
1 teaspoon vanilla extract
Method
Place the apple chunks in a large bowl with the salt and cinnamon. Toss to coat well.
Combine the brown and white sugars in a separate bowl then spread over the base of a slow cooker. Place the apple pieces in a layer on top of the sugar mixture.
Combine all the crumble ingredients in a bowl, using your fingers to completely rub the butter into the dry ingredients.
Sprinkle the crumble topping mixture over the layer of apples in the slow cooker.
Cook on HIGH for 2 hours or LOW for 4 hours.
Turn off the heat and allow the apple crumble to sit, covered, for 1 hour so the sauce will thicken more.
Serve the crumble with a scoop of vanilla ice cream.
This recipe comes courtesy of Pauline Christie's fantastic recipe book Slow Cooker Central. Order it now from Dymocks.
If you'd like to see more recipes from Starts at 60, click here. And if you have a recipe for the Starts at 60 community – we'd love to share it! Simply fill in the form below.
Submit your article here
Comments