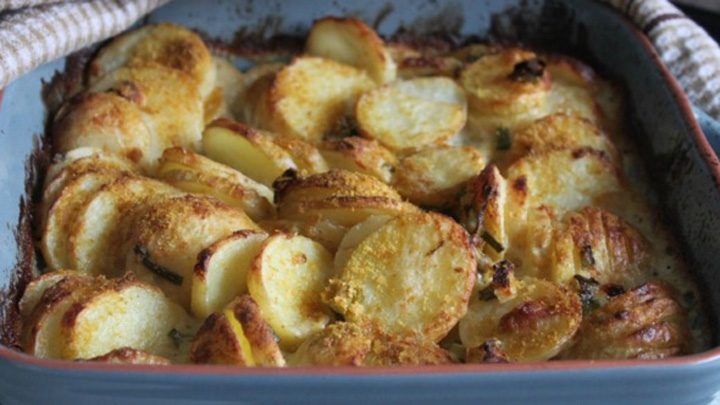 Here are 3 great potato side dish recipes, ready to compliment any meal! I hope you enjoy them as much as my family did!
Make them all at once or try a new one each week, or even just choose your favourite.
Potato 'side dishes' – 3 ways!
Potato Salad
Ingredients
1kg large potatoes – peeled
1 long cucumber – roughly sliced
2 long sticks celery – roughly sliced
½ bunch dill – shredded
½ bunch chives – roughly chopped
½ cup mayonnaise
good pinch salt
Method
Boil potatoes until just tender. Drain and set aside to cool.
Once potatoes are cool, cut them into quarters and add them to a large bowl.
Add all the other prepared ingredients to the potatoes and mix gently but thoroughly.
Cover and refrigerate until ready to serve.
Serves 6-8 as a side dish
Smashed Potatoes
Ingredients
1kg chat potatoes
1 tbsp oil of choice
8 rashers bacon – roughly diced
200g mushrooms – roughly sliced
1 leek – roughly sliced
4 cloves garlic – crushed
optional: a few dollops of sour cream or mayonnaise and chopped chives to serve
Method
Boil chat potatoes until just tender then drain. Place chats into a serving dish over a single layer. Use a 'potato masher' or large fork to slightly smash each potato.
In a medium fry pan place the oil, bacon, mushrooms, leek and garlic and fry for 5-10 minutes until the bacon is cooked and it is smelling delicious!
Spoon the bacon mixture over the top of the smashed potatoes. Finish by adding a dollop of sour cream or mayonnaise and chives.
Serves 6-8 as a side
Potato Bake
Ingredients
1kg chat potatoes – thinly sliced
1 tbsp oil of choice
270ml coconut cream
4 cloves garlic – crushed
3 spring onions – cut into 1cm pieces
1 heaped tbsp nutritional yeast
good pinch salt and pepper
Method
Preheat oven to 200c. Place the oil at the bottom of a baking dish, then put all the potatoes in the dish (I stand them all upright – see photo)
Pour the coconut cream over the potatoes then sprinkle evenly with the remaining ingredients.
Bake in preheated oven for 30 minutes. Stir very gently and bake for another 10-15 minutes until crispy and cooked.
Serves 6 as a side dish
Originally published here
Comments