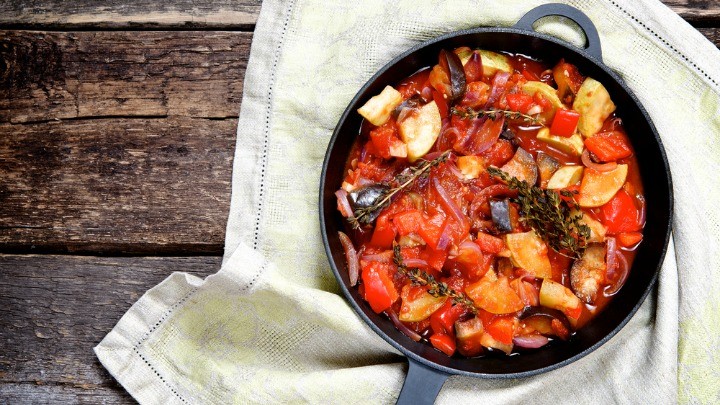 Have you been searching for an easy Italian dish that is delicious and makes the most of seasonal produce such as vibrant cherry or grape tomatoes? This meal uses bold Italian flavours such as basil, parmesan cheese, roasted red peppers and fresh tomatoes. It can be made in less than 30 minutes and serves 4 – 6 people.
INGREDIENTS:
5 cloves garlic, peeled and thinly sliced
2 tablespoons olive oil
1 small white onion, peeled and diced
salt and pepper to taste
1 jar (about 1 cup) roasted red peppers, drained and diced
2 cups (about 10 ounces) cherry or grape tomatoes, halved
optional topping: grated parmesan cheese
1/2 cup roughly chopped fresh basil leaves, loosely packed
4 boneless, skinless chicken breasts
DIRECTIONS:
Take a generous pinch of salt and pepper and season each chicken breast on each side.
Heat oil in a large pan using medium-high heat. Place each chicken breasts in to pan to form a single layer. Allow chicken to cook for 4-5 minutes on one side. Then flip and cook on the second side for an additional 4-5 minutes. To check if the chicken is cooked through, make an incision into one of the breast pieces and check that it is no longer pink. Set the chicken breasts aside on a separate plate.
Toss the onions into the pan with the remaining oil. Sauté for approximately 3 minutes or until mostly cooked. Add the garlic and tomatoes to the pan, and sauce for a further 4-5 minutes. You can tell when to add the chicken because the tomatoes will have begun to break down.
Before adding the chicken, place the roasted red peppers and half of the fresh basil into the pan and sauté for an additional minute.
Once the chicken is in the pan, add the remaining basil.
Remove from stove and serve warm, topped with fresh parmesan cheese if desired.
If you have a recipe you'd like to share with the Starts at 60 community – we'd love to share it! Submit them to us by completing the form below. 
Submit your article here
Comments