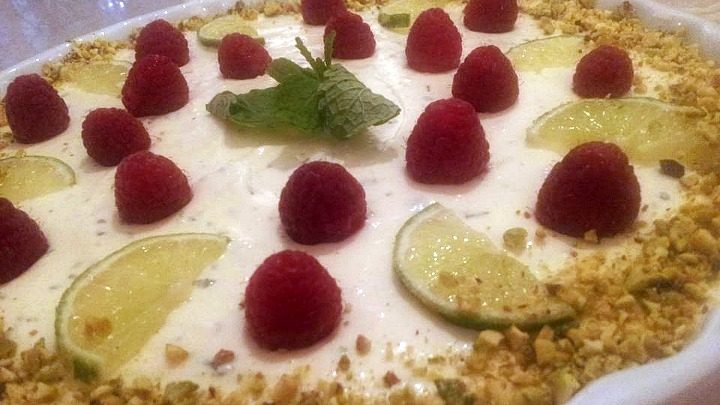 Okay, okay… it may sound crazy, but this cheesecake is seriously delicious! The cheesecake itself is light and airy and filled with all of the amazing flavours you'd find in a mojito. The lime zest gives it some zing, while the rum and vanilla balance out for a rich and smooth finish. Best of all, there's no baking required! Just pop it in the fridge for two hours until it's set, then decorate for a picture-perfect finish. Yum!
Ingredients
200g ginger biscuits
50g butter (melted)
400g cream cheese
1 x tin condensed milk
150ml double cream
Zest of 3 limes
1 tsp vanilla extract
5 tbsp rum
Handful mint leaves, chopped
1/4 cup pistachios, chopped, to decorate
1 lime, cut into thin slices, to decorate
1/2 cup raspberries, to decorate
Method
1. Line a 23cm springform cake tin with cling film and set aside. Blitz the ginger biscuits in a food processor into a fine crumb. Then, combine them with the melted butter and press the mixture into the bottom of the cake tin and refrigerate for at least 30 minutes.
2. In a large bowl, beat together the cream cheese and condensed milk.
3. In a separate bowl, whip the cream with an electric beater until it starts to stiffen, then fold into the cream cheese mixture. Stir in the lime zest, vanilla, rum and chopped mint. Pour the mixture over the biscuit base and refrigerate for at least two hours.
4. Once set, decorate however you like with the pistachios, lime and raspberries.
—————————————————–
If you'd like to see more recipes from Starts at 60, click here. And if you have a recipe you'd like to share with the Starts at 60 community – we'd love to share it! Submit them to us by completing the form below.
Submit your article here
Comments