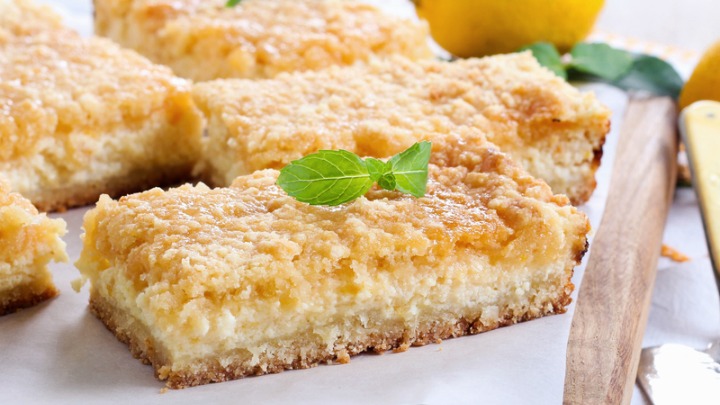 There are cheesecake slices and than there's this cheesecake slice! Every layer is absolutely perfect with just the right amount of smooth creamy cheesecake and a delicious crumble on top. Once you've made this made it once, you'll be going back time and time again – it's just that good! If you really want to take things to the next level you can serve it with ice cream or a drizzle of thickened cream, but really, this gorgeous slice is just as moorish on its own. Enjoy!
Ingredients 
1¼ cups plain flour
1¼ cups rolled oats
½ tsp salt
½ tsp bi-carb soda
½ cup raw sugar
½ cup packed brown sugar
¾ cup unsalted butter, melted
1 tsp vanilla extract
1 x 395g can sweetened condensed milk
1 tbsp finely grated lemon zest
⅓ cup fresh lemon juice
2 large egg yolks
½ tsp lemon extract
Method
1. Preheat oven to 170C and grease and line a 17X28cm slice tray with baking paper, allowing the edges to overhang. In a large bowl, whisk together flour, rolled oats, salt and bi-carb soda. Stir in the raw sugar and brown sugar and mix until smooth. Stir vanilla into melted butter and pour mixture over dry ingredients. Stir mixture until well combined.
2. Pop half of the crumb mixture into the bottom of the prepared tin and press into an even layer. Bake in preheated oven for 15 minutes. Remove from oven and put aside (leave the oven turned on).
3. In a bowl, whisk together sweetened condensed milk, lemon zest, lemon juice, egg yolks and lemon extract until well blended. Pour mixture over crumb crust in baking dish and spread into an even layer. Sprinkle the remaining crumble mixture over the top of the lemon layer.
4. Bake in oven for 25 minutes minutes or until lightly golden. Remove from oven and allow to cool. Cover and refrigerate for at least 2 hours (preferably overnight) then take it out and cut into squares. Store in airtight container in refrigerator.
ENJOY!
This Spring, Stockland is proud to be partnering with Jamie's Ministry of Food and local chefs around the country to bring you live cooking demonstrations right from the heart of their villages.
Click here to RSVP for an upcoming Spring Cooking Demonstration and Open Day, or call 1800 72 71 70 to arrange a visit at a preferred time. Not sure where the your nearest Stockland village is? Click here to find out.
Stockland warmly invites you to stop by your local village and see first-hand the wonderful freedom and peace of mind it can offer. Family members are welcome too! Click here to learn more.
Comments