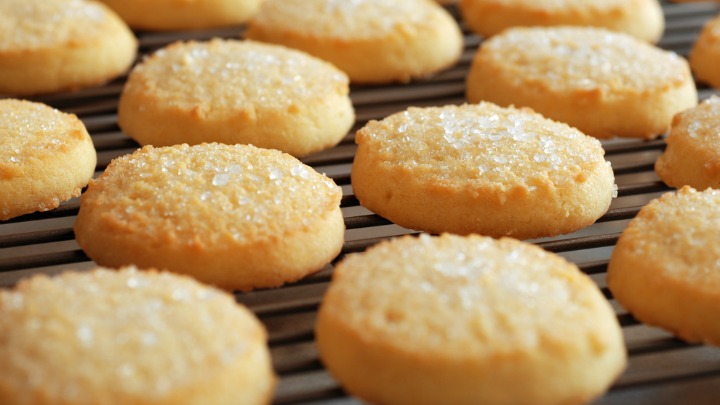 One of the most satisfying things in the world has to be sitting down with an afternoon cuppa and a good biscuit to dunk into it – and these little babies are perfect for just that! They're so light and zesty with an amazing ginger hit thanks to the addition of crystallised ginger. Not only that, they've also got a hint of mint for a lovely burst of freshness. They're really unlike any biscuit you've ever had before and are sure to be a winner every time. Someone put the kettle on!
Ingredients
1 cup plain flour, spooned and levelled
3 tablespoons fresh mint leaves, finely chopped
2 tablespoons finely chopped crystallised ginger
1 tablespoon finely grated lemon zest
1/4 teaspoon baking soda
1/2 cup unsalted butter, room temperature
1/4 cup caster sugar
1/4 cup packed light-brown sugar
1/2 teaspoon pure vanilla extract
1 egg yolk, room temperature
Method
1. Preheat oven to 180C and line a baking tray with baking paper. In a medium bowl, whisk together flour, mint, ginger, lemon zest, and baking soda. In a large bowl, using an electric mixer, beat butter, granulated and brown sugars, vanilla, and egg yolk on medium until fluffy, about 8 minutes, scraping down bowl as needed. With mixer on low, gradually add flour mixture and beat just until combined.
2. Place coarse sugar in a small bowl. Roll rounded teaspoons of dough into balls and gently roll in sugar to coat. Place 2 inches apart on prepared tray. Bake until edges are slightly brown, 14 minutes, rotating sheets halfway through. Transfer cookies to wire racks to cool.
ENJOY!
This Spring, Stockland is proud to be partnering with Jamie's Ministry of Food and local chefs around the country to bring you live cooking demonstrations right from the heart of their villages.
Click here to RSVP for an upcoming Spring Cooking Demonstration and Open Day, or call 1800 72 71 70 to arrange a visit at a preferred time. Not sure where the your nearest Stockland village is? Click here to find out.
Stockland warmly invites you to stop by your local village and see first-hand the wonderful freedom and peace of mind it can offer. Family members are welcome too! Click here to learn more.
Comments