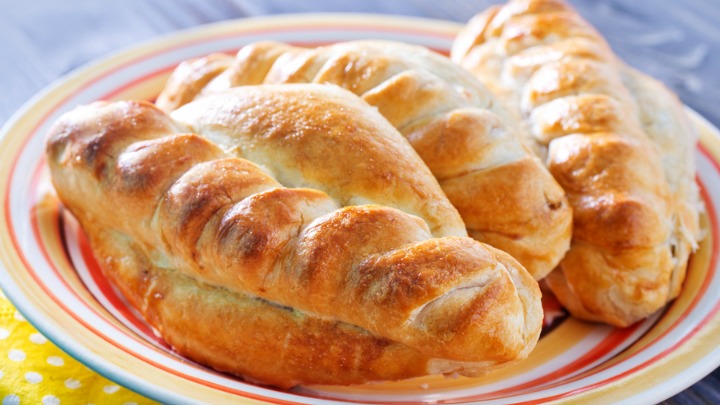 These pasties are a tasty shift away from the traditional fillings with lovely flavourful leeks making a guest appearance. The filling is so delicious and cheesy with cream, mustard and thyme adding a new depth of flavour. You can use ham or bacon – whichever you prefer – to round out the mixture and the whole thing is wrapped up snugly in buttery shortcrust pastry. Yum! The beauty of it all is that it's easy to whip together and only takes about an hour from start to finish! Serve with a side of veggies or a simple salad, or just enjoy on their own.
Ingredients
1 large potato cut into very small cubes
2 tbsp butter
1 leek outer leaves removed, finely sliced
4 thyme sprigs, leaves removed
1 tbsp Dijon mustard
2 tbsp cream
500 grams shortcrust pastry (about 2-3 sheets)
150 grams Cheddar cheese, cut into small pieces
200 grams ham Or bacon diced
Flour, for dusting
1 egg, beaten
Method
1. Cook potatoes in a pot of boiling, salted water for 5-8 minutes. The potatoes should be tender, but not mushy. While they are cooking, melt butter in a large saucepan, then add ham pieces and cook for 1-2 minutes. Add leek and thyme, and cook until soft. Drain potatoes, then add to the saucepan along with the mustard and season with salt and pepper to taste. Stir through the cream, turn off the heat and leave to cool a little.
2. Remove pastry from freezer to defrost before filling. Preheat the oven to 180°C and line a tray with baking paper. Dust your work surface with a little flour then cut pastry into 15cm circles using a plate or bowl as a guide. You'll get about 6.
3. Mix the cheese with the filling and put a small pile of the mixture onto the centre of each pastry circle. Brush a small amount of egg around the edges before sealing, crimping with your fingers to keep it shut. When you have filled all the pasties, brush the tops with the remaining egg mixture. Put the pasties on baking tray and bake for 40-45 minutes or until nice and golden brown.
—————————————————–
If you'd like to see more recipes from Starts at 60, click here. And if you have a recipe you'd like to share with the Starts at 60 community – we'd love to share it! Submit them to us by completing the form below.
Submit your article here
Comments