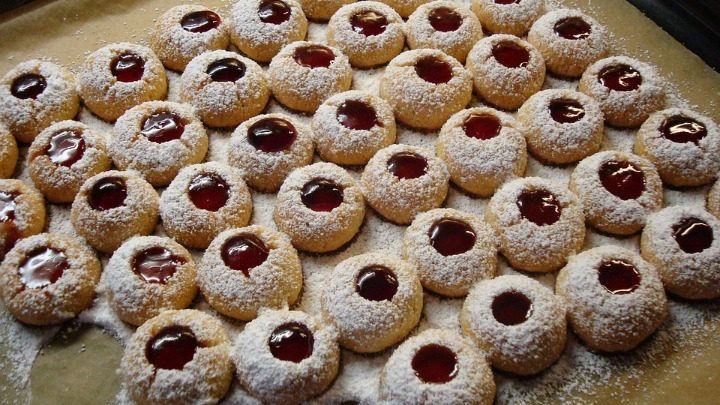 The beauty of these biscuits is in the simplicity. The biscuit base is a simple recipe, while the jam adds a burst of flavour that you can personalise to your own taste. You can try a classic choices like raspberry or marmalade, or go for something a little more daring like rhubarb or lemon.
Ingredients
180g softened butter
1 cup caster sugar
1 egg
2 cups plain flour, sifted
½ tsp baking powder
Jam (any flavour)
2 tablespoons desiccated coconut (optional)
Method
1. Preheat oven to 180 degrees celsius. Grease and line two baking trays with baking paper. Beat the sugar and softened butter with electric beaters or a stand mixer until light and fluffy. Add the egg and continue to mix well. Sift in the plain flour and baking powder. Stir gently to combine.
2. Roll the mixture into small balls (about 2 teaspoons of mixture). Place the cookie balls onto the baking tray and flatten slightly – use your knuckle or finger to press an indent into the mixture (not the whole way through!). Use a teaspoon to place a very small amount of jam into each indent.
3. Bake the cookies for approximately 10 minutes or until lightly golden. Remove from oven and sprinkle with coconut if using. Leave the cookies on the baking trays for 10 minutes and then transfer to a wire rack to cool completely.
—————————————————–
If you'd like to see more recipes from Starts at 60, click here. And if you have a recipe you'd like to share with the Starts at 60 community – we'd love to share it! Submit them to us by completing the form below.
Submit your article here
Comments