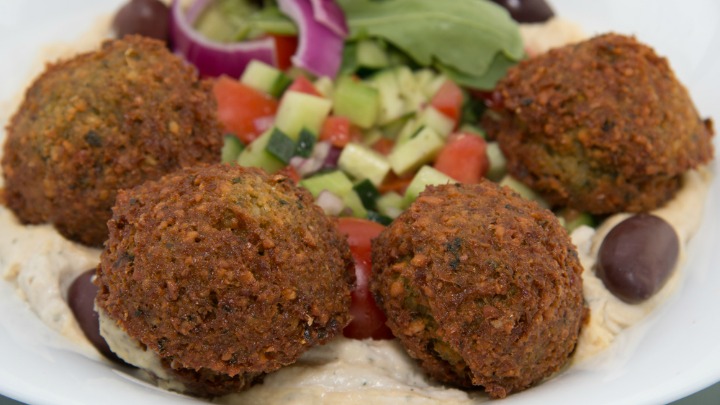 Falafels are a Middle Eastern staple that make a great snack or meal. They are particularly popular in Israel, where they are fried up in street food stalls by men who have been perfecting their art for years. These men make the tiny chickpea balls at lightning speed and serve them hot and stuffed into pita bread with plenty of salad and hummus. Lucky for us, they're easy to make at home too and thanks to their high fibre and protein content, they leave you feeling full and satisfied for hours. Don't be deterred by the long list of ingredients – most of them are staples you'll already have in your kitchen cupboard. They're great for an easy and healthy dinner and keep well in the fridge so you can enjoy them for lunch all week long!
Ingredients
1¼ cups canned chickpeas, rinsed and drained
½ cup finely chopped onion
1 clove garlic, crushed
2 tablespoons coriander, finely chopped
1 tablespoon flat-leaf parsley, finely chopped
½ teaspoon ground coriander
½ teaspoon ground cumin
¼ teaspoon ground cardamom
¼ teaspoon cayenne pepper
½ teaspoon baking powder
3 tablespoons water
1½ tablespoons plain flour
3 cups (750ml) sunflower oil, for frying
½ teaspoon sesame seeds, for sprinkling
¾ teaspoon salt
Method
1. Add chickpeas, onion, garlic, parsley, and coriander in a food processor. Pulse for 30-40 seconds until it is finely chopped and holds itself together, but is not pasty. Add the spices, baking powder, flour, salt and water. Mix with hands until the mixture is smooth. Cover and leave it in the fridge for at least 1 hour.
2. Heat about 2½ inches (6 cm) of oil in a medium saucepan over medium-high heat to 180°C. With wet hands, form a patty or a ball using 1 tablespoon of the mixture. Sprinkle the balls with sesame seeds and fry them in batches for about 4 minutes or until well browned. Remove from oil and drain on paper towels.
3. Serve falafels with warm pita bread, hummus, and a fresh salad of mixed lettuce leaves, cucumber, tomato, carrot and anything else you want to add. Enjoy!
—————————————————–
If you'd like to see more recipes from Starts at 60, click here. And if you have a recipe you'd like to share with the Starts at 60 community – we'd love to share it! Submit them to us by completing the form below.
Submit your article here
Comments