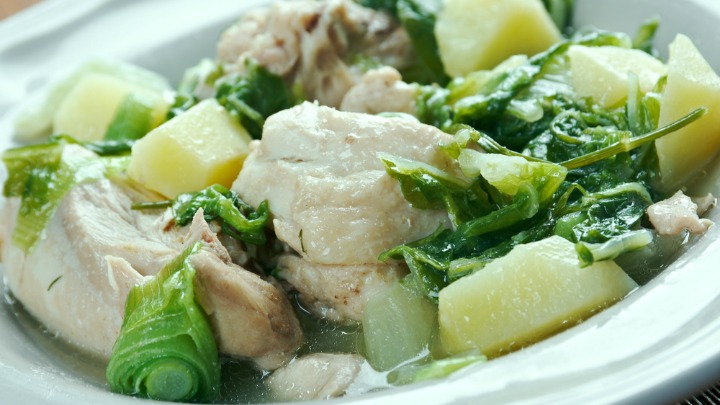 There's nothing like chicken soup to warm the body and nourish the soul.
This version is perfect for anyone wanted a healthy and wholesome meal and will go a long way towards fighting off any unwanted colds and sniffles. The recipe is great as is, but can be used as a base for any chicken soup so you can add whatever you want and build on it as you go.
It great for freezing too, so stash away any leftovers for a rainy day and when you need a little bit of a pick-me-up.
Ingredients
800g chicken breast, sliced
1 large brown onion, halved, finely chopped
2 spring onions, sliced
2 large garlic cloves, finely chopped
1cm piece ginger, grated
3 potatoes, roughly chopped
300g baby spinach
6 sprigs fresh thyme, leaves picked
2L chicken stock
1/2 teaspoon whole black peppercorns
Sea salt flakes
Chopped parsley, to serve (optional)
Method
1. Put onion, spring onion, garlic and ginger into large pot and lightly cook for 1 to 2 minutes. Add rest of ingredients to the pot and bring to the boil. Reduce heat to low and cook, covered, for 40 minutes or until vegetables are very tender.
2. Ladle soup into bowels and top with parsley if using.
—————————————————–
If you'd like to see more recipes from Starts at 60, click here. And if you have a recipe you'd like to share with the Starts at 60 community – we'd love to share it! Submit them to us by completing the form below.
Submit your article here
Comments