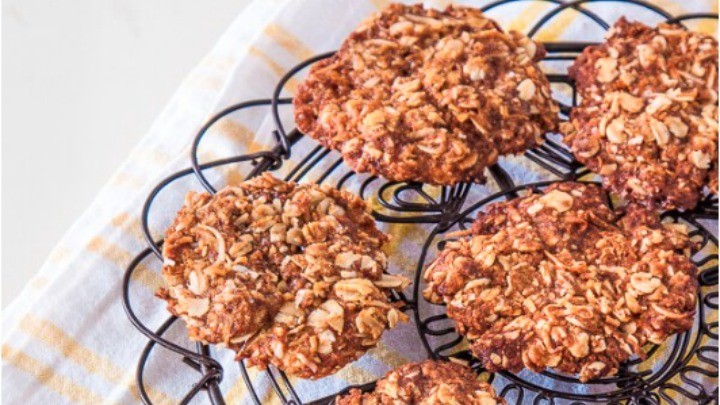 A classic favourite, the Anzac biscuit is very recognisable with its signature golden brown exterior. However sometimes they taste too good to just have one and this recipe could be your solution. By substituting golden syrup and sugar for a healthy alternative like coconut sugar and brown rice syrup, as well as replacing the normal flour with coconut flour, the resulting biscuits are both irresistible and have much less guilt attached. By replacing the butter with coconut oil these biscuits become both dairy and refined sugar free.
If you want to take it a step further and make them completely gluten free you can substitute the rolled oats with quinoa flakes.
The resulting biscuits has the same well known and loved taste of traditional Anzac biscuits and you can enjoy more than 1 without feeling guilty!
Ingredients:
½ tsp bicarbonate of soda
60mls (1/4 cup) brown rice syrup
2 tbs hot water
50g (1/3 cup) coconut sugar
50g (1/4 cup) coconut oil, melted if solid
95g (1 cup) rolled oats
40g (1/4 cup) coconut flour
30g (1/2 cup) shredded coconut
Method:
Set the oven to 160 celsius after lining a baking tray with baking paper.
Mix the coconut, oats, sugar and flour in a bowl and combine well.
Add the melted coconut oil and brown rice syrup before resuming mixing. Place the bicarbonate of soda in a small bowl and then add the hot water and stir to combine. Add to the rest of ingredients and mix well.
Create small balls (roughly about 1-2 tsp in size) from the mixture Place each ball on the baking tray and flatten well with your hand. Make sure to leave a small amount of space between each flattened ball as the biscuits will expand during the cooking process.
Bake for 8 to 10 minutes before removing from the oven and allowing to cool on the tray for approximately 2 to 3 minutes.
 Place on a wire wrack to cool completely before serving.
If you have a recipe you'd like to share with the Starts at 60 community – we'd love to share it! Submit them to us by completing the form below. 
Submit your article here
Comments