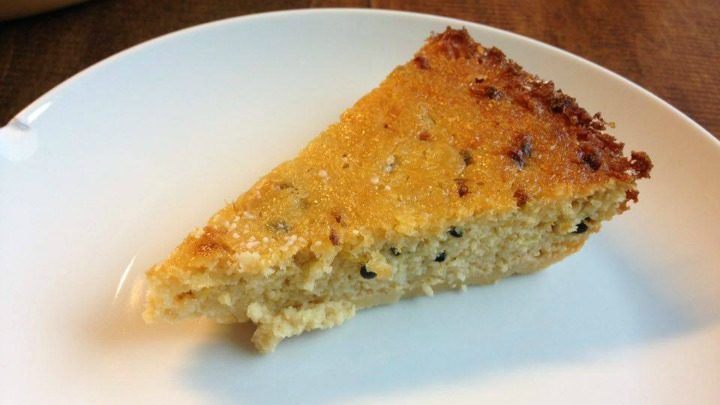 Summer may be over but that doesn't mean you have to stop enjoying one of summer's most gorgeous fruits – passionfruit! This delicious recipe is full of all the best summer flavours with coconut, lemon and passionfruit combining into one glorious tart. You can use tinned passionfruit instead of fresh, saving you lots of time, and the whole thing is easily mixed together in one bowl! Serve it up dusted with icing sugar and a nice scoop of vanilla ice cream or thickened cream. Enjoy!
This recipe was given to Starts at Sixty by Irene Bruschi.
Ingredients
125ml passionfruit pulp
1 cup (80g) dessicated coconut
1/2 cup (75g) plain flour
1 1/3 cup (330mls) milk
125g butter, melted
3/4 cup (165g) caster sugar
4 eggs, lightly beaten
1 tbsp lemon juice
Icing sugar, to dust
Ice cream or thickened cream, to serve
Method
1. Preheat oven to 180. Grease 24cm pie dish. Combine dessicated coconut, caster sugar, and sifted flour in a bowl. Add lightly beaten eggs, milk, butter, passionfruit pulp and lemon juice. Mix everything together really well.
2. Pour the mixture into prepared dish and bake uncovered for about 40-45 minutes or until golden brown.
3. Dust the tart with sifted icing sugar when cold. Serve with ice cream or thickened cream.
—————————————————–
If you'd like to see more recipes from Starts at 60, click here. And if you have a recipe you'd like to share with the Starts at 60 community – we'd love to share it! Submit them to us by completing the form below.
Submit your article here
Comments