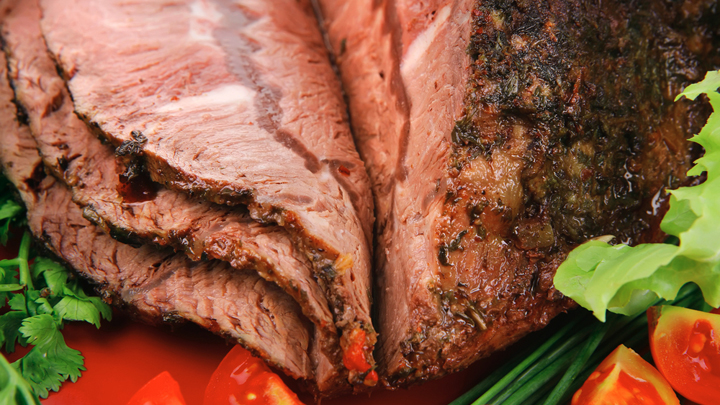 This classic recipe is a favourite… and for good reason! It's easy to make and will give you leftovers for a few lunches as well. Oh, and it's scrumptious.
Give it a go for lunch or dinner this week.
Ingredients
1½ kg corned beef/silverside
1 onion, cut into wedges
1 granny smith apple, peeled and cut into wedges (optional)
4 cups ginger beer
Glaze
1 tbsp Dijon mustard
1 tbsp brown sugar
Ginger and Mustard Sauce
2 tsp minced ginger
50 g butter
4 tbsp flour
2 cups chicken stock
2 tbsp Dijon mustard
2 tsp brown sugar
Method
1. Rinse the corned silverside in cold water before cooking, then place the onion and apple in a large pot. Stand beef on top and pour ginger beer over to submerge.
2. Place over a low heat on the stove and keep skimming away any fat or bits that rises to the surface. Keep on a simmer so small bubbles will occasionally rise to the surface. Adjust the heat throughout the cooking time.
3. Cook until silverside is tender – about 25 to 30 minutes per 500g. A fork should go into the centre of the meat. 
4. Remove beef and score fat into diamond shapes. Mix mustard and brown sugar together and spread over. Grill 4-5 minutes until golden.
5. To make the ginger and mustard sauce, gently fry the ginger in the butter for 2-3 minutes. Stir in flour and cook till frothy. Gradually add stock, stirring continuously until the sauce thickens. Mix in mustard and brown sugar. Season with salt and pepper.
—————————————————–
If you'd like to see more recipes from Starts at 60, click here. And if you have a recipe you'd like to share with the Starts at 60 community – we'd love to share it! Submit them to us by completing the form below.
Submit your article here
Comments