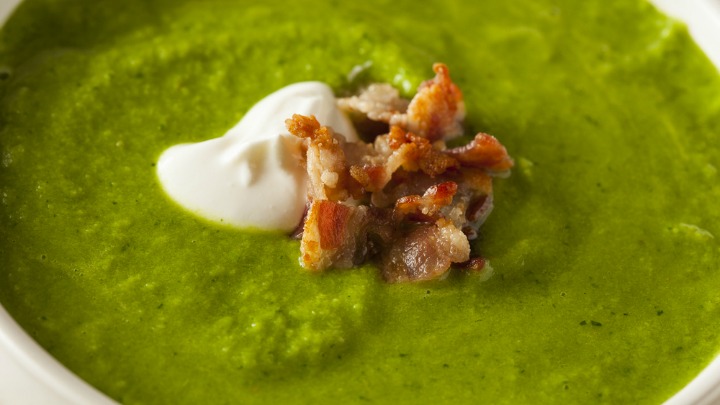 Eating your daily dose of veggies doesn't have to be boring – especially when it comes to broccoli! Too many of us slip into old patterns with vegetables and tend just steam, boil, or roast them without using them to their full potential. When done right – with the right flavours, spices, herbs and extras – vegetables can be something exciting to sit down to every night at the dinner table. This broccoli soup is a great way to get started. It has all the great flavours you'd want in a winter soup and packs a punch with the health factor (broccoli is the original superfood!). The crispy bacon bits sprinkled over the top just before serving add a great salty hit and you can finish the lot with a dollop of sour cream or yoghurt. Yum!
Ingredients
1 -2 tablespoon oil
1 onion, diced
2 garlic cloves, minced
1 large head broccoli, trimmed and chopped (about 500g)
1 potato (peeled & diced or leave skin on if you prefer)
6 cups chicken stock
Salt and freshly ground black pepper
3-5 slices bacon, diced
Sour cream or yoghurt, to serve (optional)
Method
1. In a large deep pan heat the oil over medium and add the onion and garlic. Cook gently until softened for about 2-3 minutes. Add the potato, broccoli and stock and bring to the boil. Turn heat down and simmer for 20 mins until vegetables are cooked.
2. Either pour into a blender and blend or use a stick blender in pan to make a smooth mixture. If using a blender add soup back to the pan and heat gently. Add 3/4 bacon and simmer til bacon is cooked, about 15mins, then check seasoning. Meanwhile, fry off remaining bacon until brown and crispy.
3. Serve soup hot with bacon sprinkled over the top and add a dollop of sour cream or natural yoghurt if using. It goes great with a nice slice of fresh crusty bread, too!
—————————————————–
If you'd like to see more recipes from Starts at 60, click here. And if you have a recipe you'd like to share with the Starts at 60 community – we'd love to share it! Submit them to us by completing the form below.
Submit your article here
Comments