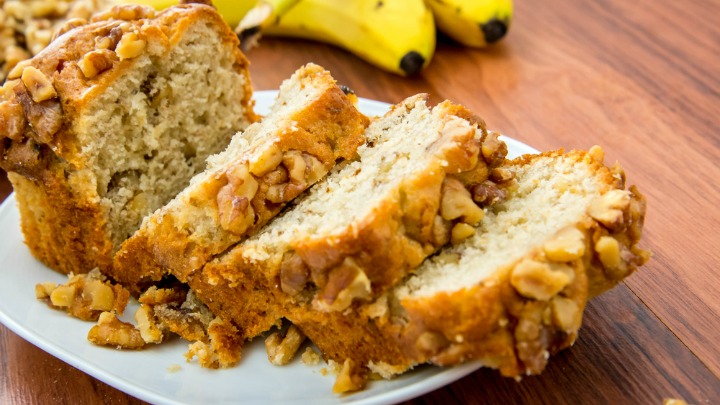 There are lots of variations to banana bread out there and this is one of the greats. The cream cheese makes it extra moist, while the nuts bring that perfect crunch with every mouthful. For something a little extra-special you can make and drizzle the orange zest icing to go over the top for a lovely finish! This recipe is for two loaves so if you're not going to get around the finishing them both off within a week, just wrap one in glad wrap and keep in the freezer for up to three months. Easy!
Note: makes two loaves
Ingredients
1 1/4 cups chopped pecans or walnuts, divided
1/4 cup butter, softened
225g cream cheese, softened
1 1/3 cups sugar
2 eggs
2 teaspoons vanilla
3 cups plain flour
1/2 teaspoon baking powder
1/2 teaspoon baking soda
1/2 teaspoon salt
1 cup butter milk
1 1/2 cups very ripe, mashed bananas (3-4 bananas)
Icing (optional)
1/2 cup icing sugar
2 tablespoons orange juice
1/2 teaspoon orange zest
Method
1. Preheat oven to 180°C. Grease and flour 2 8×4-inch loaf tins. Place 3/4 cup of the nuts on a baking sheet and toast for about 10 minutes, or until fragrant, stirring halfway through cooking time.
2. In a medium bowl, beat butter and cream cheese at medium speed with an electric mixer until creamy. Gradually add sugar, beating until light and fluffy. Add eggs, 1 at a time, beating just until blended after each addition. Stir in vanilla.
3. In another medium bowl, whisk together flour, baking powder, baking soda, and salt. Add flour mixture to cream cheese mixture alternately with buttermilk, beginning and ending with flour mixture. Mix until just blended after each addition. Stir in mashed bananas and 3/4 cup toasted nuts.
4. Spoon batter into prepared loaf pans and sprinkle with the remaining nuts. Bake for about 1 hour, or until a toothpick inserted in the centre comes out clean. Cover bread with foil for the last 15-20 minutes of baking to prevent over-browning. Leave to cool for 20 minutes, then turn onto wire racks to cool completely.
5. Meanwhile, if using icing, stir together powdered sugar, orange juice and zest. Drizzle over cooled loaves.
—————————————————–
If you'd like to see more recipes from Starts at 60, click here. And if you have a recipe you'd like to share with the Starts at 60 community – we'd love to share it! Submit them to us by completing the form below.
Submit your article here
Comments