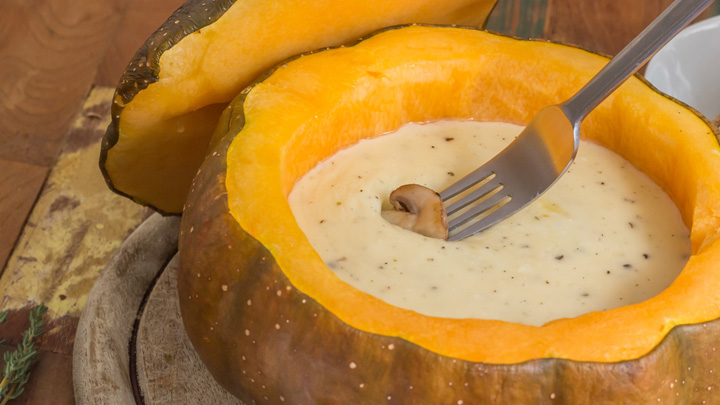 Starts at 60 community member Sherry sent in this awesome recipe that is sure to amaze: a pumpkin dip within a pumpkin!
This will make quite an impression at your next dinner party or event.
Ingredients
Medium sized pumpkin (any kind)

300ml cream

3 slices white bread broken up

Handful of grated tasty cheese.
Method
Wipe pumpkin, then cut the top off.

Remove all seeds and stringy bits with a soup spoon.
Put the bread in the cavity, add the cream, then the cheese – the level should be about an inch or so from the top, so it doesn't overflow. Mix lightly and replace the lid.
Wipe over lightly with oil.
Place the pumpkin on a metal plate, or small roasting pan, and cook for 1.5 hours at about 140 degrees, depending on size.
Test with kebab stick in top part – if it's soft, it's cooked.
Can also be cooked in a BBQ with a lid.
—————————————————–
If you'd like to see more recipes from Starts at 60, click here. And if you have a recipe you'd like to share with the Starts at 60 community – we'd love to share it! Submit them to us by completing the form below.
Submit your article here
Comments