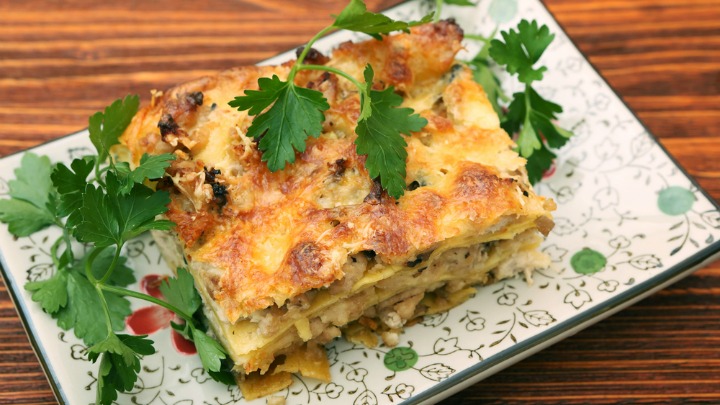 What's your favourite winter recipe?
Tell us in the form below for your chance to win!
It's a comforting dish full of layered pasta sheets, meat and spinach that is topped with soft, gooey cheese melted on top. Perhaps the best thing about this meal is that you can make it in advance and freeze it for later.
Ingredients
700g boneless, skinless chicken breasts
225g pre-cooked lasagne sheets (you'll need about 20 sheets all up)
200g ready-grated mozzarella
200g baby spinach leaves
140g bacon cut into strips
100g butter
100g plain flour
25g Paremsan, finely grated
500ml milk (full cream or skim works)
200ml white wine
1/2 medium onion, chopped
2 bay leaves
Method
1. Pre-heat the oven to 220C (or 180C fan-forced). Add the onion, bay leaves and wine to a medium saucepan with the chicken breasts. Pour enough water over the breasts to cover and then place the lid on top and bring to a simmer. Poach the chicken for around 15 minutes or until the meat is just cooked. Transfer the chicken breasts to a cutting board and strain the liquid into a jug.
2. Melt butter in a large non-stick saucepan over medium heat. Stir in the flour and cook for about a minute. Gradually add the milk, stirring well to ensure the sauce stays smooth and the flour doesn't clump. When all of the milk has been added, stir in the reserved cooking liquid and continue to cook for a further 2 to 3 minutes. Add salt and pepper to taste.
3. Cut the chicken into small chunks and stir into the saucepan. Add the bacon and the spinach and stir through until the spinach has wilted. Spoon one third of the chicken mixture into the base of a lasagne dish (approximately 26cm x 18cm). Top with a third of the lasagne sheets. Repeat the process, laying twice more before ending with the lasagne. Scatter the mozzarella and Parmesan on top and season with black pepper.
4. If freezing, allow to cool before putting away. If cooking, bake for 25 minutes or until the lasagne is tender, the topping is golden brown and the filling is hot. Eat on its own or serve with a side salad.

Enter your favourite winter recipe in the form below for your chance to win!
To celebrate their new Winter Warmers events, Stockland is giving Starts at 60 readers the chance to win a great winter hamper. Simply fill out the form below to enter!
Click here for full terms and conditions.
Comments