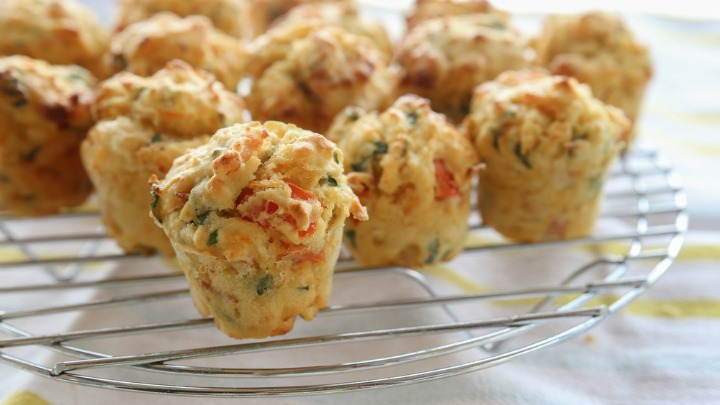 When it comes to finding easy, healthy and tasty snacks, it can be difficult to find something that covers all three. Not anymore though! These muffins are super easy to make and every cheesy bite is absolutely delicious. You can make them in a mini muffin tray, like here, or use a standard size muffin tray instead for something a little bigger. They freeze really well too if you find yourself wanting to make an extra batch to save for later. Just wrap them in glad wrap and store in the freezer for up to three months.
Ingredients
2 cups self raising flour
3 cups vegetables (Try grated carrot, grated zucchini, grated onions, corn, chopped spinach, chopped shallots, and fresh herbs. Use all or just mix and match a few)
1 1/3 cups grated tasty cheese
½ cup milk
3 eggs
60g butter, melted
Method
1. Preheat oven 180°C (160°C fan forced) and grease a mini muffin pan (or standard size muffin pan) with cooking spray.
2. Place flour into a large mixing bowl and stir in grated vegetables and half of the cheese. Mix well.
3. Whisk milk and eggs together and add cooled melted butter. Pour into the flour mixture and stir gently until just incorporated.
4. Divide evenly amongst muffin pan and sprinkle over remaining cheese. Bake 25-30 minutes or until golden brown and cooked through. A skewer inserted into the middle should come out clean.
5. Cool in the tin before turning onto a wire rack to cool completely.
—————————————————–
If you'd like to see more recipes from Starts at 60, click here. And if you have a recipe you'd like to share with the Starts at 60 community – we'd love to share it! Submit them to us by completing the form below.
Submit your article here
Comments