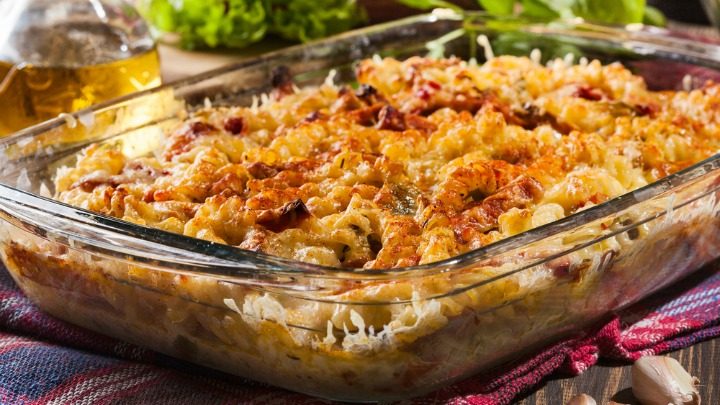 Warm, cheesy and comforting… This recipe is for all the cheese lovers out there! Tuck in with a generous bowl of this pasta bake on a cool night for the ultimate guilty pleasure. Filled with two types of cheese and a dollop of butter for good measure, this dish is sure to get your tastebuds tingling. The top is finished with breadcrumbs, butter and parsley for a lovely and delicious crust. Dig in!
Ingredients
200g macaroni, shell or spiral pasta
2 strips rindless bacon, diced, (optional)
1/4 cup butter
3 tablespoons plain flour
2 cups milk
230g cream cheese
Salt and pepper
2 teaspoons Dijon mustard
2 cups grated Cheddar cheese
1 cup bread crumbs
2 tablespoons butter
2 tablespoons chopped fresh parsley
Method
1. Preheat oven to 180°C. Bring a large pot of lightly salted water to a boil. Add pasta and cook for 8 to 10 minutes or until al dente; drain.
*If using bacon; heat a frying pan over a medium heat and cook bacon until lightly browned and crispy. Set aside.
2. Heat a saucepan over medium heat, melt butter and stir in flour. Cook for about 1 minute, until smooth and bubbly; stirring occasionally. Mix in milk, cream cheese, salt, pepper, and Dijon mustard. Continue cooking until sauce is thickened. Add cooked pasta, Cheddar cheese and bacon.
3. Pour into a medium casserole dish. In small bowl mix together bread crumbs, butter and parsley; spread over pasta. Bake for 15 to 20 minutes or until golden brown and heated through.
—————————————————–
If you'd like to see more recipes from Starts at 60, click here. And if you have a recipe you'd like to share with the Starts at 60 community – we'd love to share it! Submit them to us by completing the form below.
Submit your article here
Comments