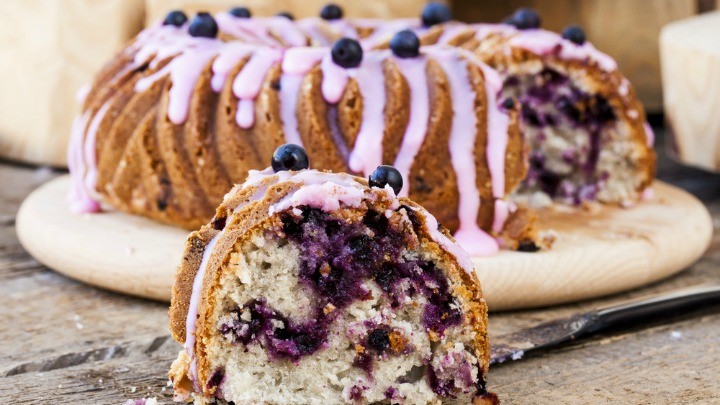 Looking for something to serve for afternoon tea that will surprise and delight your friends or family? Look no further than this delicious cake. With fresh seasonal blueberries, tangy lemon zest and aromatic spices topped off with the crumbliness of the walnut this cake is sure to impress everyone.
Ingredients
For Cake:
1 cup, blueberries, fresh or frozen
1 and 3/4 cup, All purpose flour
175 gms, butter, unsalted
1 cup, castor sugar
2 eggs + 1 yolk
100 ml, cream
1/4 cup, milk
1 teaspoon, lemon juice
1 teaspoon, lemon zest
1 teaspoon, vanilla extract
1/2 teaspoon, baking soda
3/4 teaspoon, baking powder
1/4 teaspoon, salt
For Crumb:
3/4 cup, walnuts, coarsely crushed
75 gms, brown sugar
1 teaspoon, cinnamon powder
1/4 teaspoon, clove powder
1/2 cup, all purpose flour
1/4 cup, melted butter
1/2 teaspoon, vanilla extract
Method
For Crumb:
Place all the ingredients in a bowl and make a well after combining them with a wooden spoon. Then place in refrigerator until it is needed.
For Cake:
Preheat the oven at 175 C.
Take a 9-inch spring form pan and grease and line it with baking paper.
Combine the eggs, milk and yolk by lightly beating them in a bowl.
In a separate bowl, mix together baking powder, baking soda, flour, salt, lemon zest and castor sugar. Then stand in a mixer, mix on low speed for a minute. Next add in the cream, vanilla extract and butter and mix for a further minute. Once the mixture is moistened, add in 1/2 of the beaten egg mixture and mix for a further 30 seconds. The add in the lemon juice and the rest of the egg mixture and continue to beat for another 30 seconds.
Remember to scrape down the sides of the bowl so that all the ingredients are combined completely.
Take half of the batter and transfer it into a pan, levelling the mixture with a spatula or knife. Use the crumb mixture and half of the blueberries to sprinkle on top.
Put the remaining batter into the pan and again level it out with a spatula then place in the oven and bake for about 25 – 30 minutes.
Take the pan out and evenly sprinkle the remaining blueberries and crumb mixture on top before placing the pan back in the oven for a further 25 – 30 minutes of baking. A toothpick or skewer should be able to be inserted into the cake and pulled out crumb free as a way of testing if the cake is cooked through.
Allow cake to cool in the pan for a few minutes before transferring cake out of pan and onto a wire rack.
Serve slices of the cake with fresh blueberries, whipped cream or simply with a nice hot cup of fresh coffee.
If you have a recipe you'd like to share with the Starts at 60 community – we'd love to share it! Submit them to us by completing the form below. 
Submit your article here
Comments