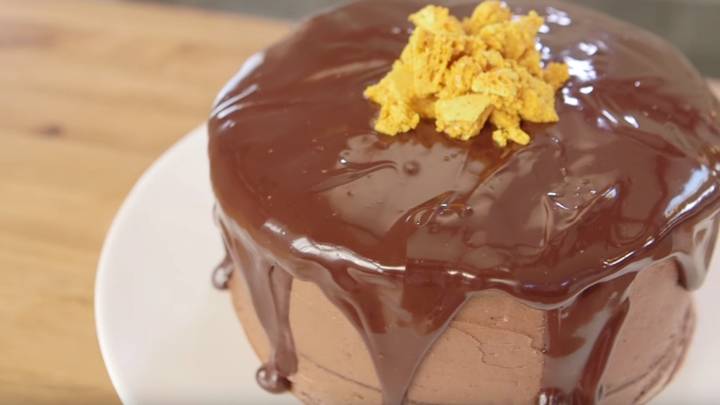 Everyone thinks that they have the best recipe or the special trick that makes their chocolate cake the best in the world. What if a chef decided to take all the tips and tricks and put them together into one Epic cake? They did, and it's amazing.
A cake that's perfect for a get-together or to really wow the family at desert time. It may look complicated but is simple and worth every step.
To get this cake started you'll need the following ingredients:
Chocolate Cake
225 g salted butter, softened
225 g golden caster sugar
4 eggs
200 g self-raising flour
2 tbsp cocoa powder
1 tsp baking powder
100 ml buttermilk
100 g dark chocolate
1 shot of espresso
Buttercream
250 g salted butter, softened
500 g icing sugar
50 g cocoa powder
2 tbsp hot water
Coffee Syrup
100 g caster sugar
100 ml water
50 ml coffee liqueur
Ganache
200 g dark chocolate
200 ml double cream
1 handful of honeycomb, to serve (Optional)
To see what you can do with these ingredients you can watch the video down below or go check out the full-text recipe at Sorted Food.
This cake would go great with an afternoon cuppa and a chat for sure.
Will you be trying this recipe? Do you have any special cake tricks that are not included in this one?
Comments