How aged care facilities are fighting back against depression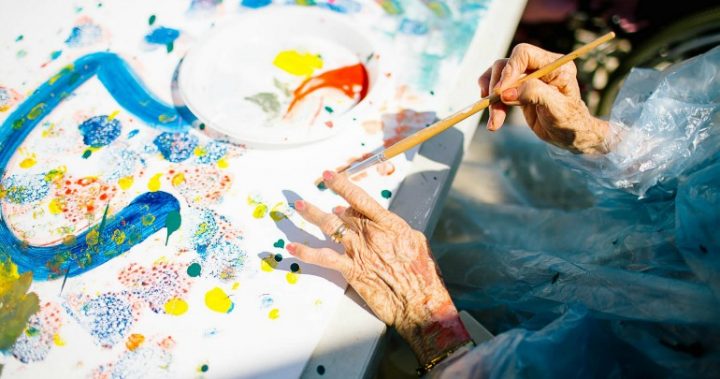 In recent weeks there has been a lot of talk about mental health in aged care facilities.
As you might have read, the Council on the Ageing is lobbying the Federal Government to change a Medicare rule which doesn't recognise aged care residents as patients in the community.
The rule prevents a lot of older Australians from being able to access mental health treatments for conditions such as anxiety and depression.
While the rule is subject to a government review of Medicare, the Council on the Ageing has been circulating a petition online in support of the change.
Read more: Government accused of 'discriminating' against elderly when it comes to mental health
Ad. Article continues below.
There's been a lot of commentary surrounding this, and the rate of mental illness in aged care facilities – which is thought to be as high as almost 50%.
But what we haven't heard or read much about is what aged care facilities are doing to try and combat the rate of depression amongst their residents.
One aged care facility in Queensland has been putting a program in place to combat depression, and according to a recent study by the Queensland University of Technology, it's managed to cut the rate of depression amongst residents to well below the national average.
BallyCara, an aged care facility at Scarborough, north of Brisbane, has an estimated rate of depression amongst residents of less than 10%.
The aged care facility's Sona program (Sona meaning happiness in Gaelic) is part of its framework to reduce the rate of depression.
Ad. Article continues below.
BallyCara CEO Marcus Riley said resident programming was conducted around "residents' past, present and future experiences and adventures".
"It is a holistic approach to aged care, as opposed to a clinically directed or medical model," he told Starts at 60.
"Every facet of residents' lives are investigated, and the residents identify what future adventures, learning and mindfulness they want to pursue."
The program has resulted in a reduction in the rates of falls and "challenging behaviours".
Riley also said that residents were happier living in aged care than they were when during the process of moving in.
Ad. Article continues below.
So, how does the program tackle mental health issues amongst BallyCara's residents?
Well, any changes in behaviour or symptoms that indicate a resident is unhappy, are assessed by a team of staff.
According to Riley, the assessment includes a review of the resident's individual Sona care plan plus consultation with the resident and their doctor, family and friends.
 "This process identifies how staff or environment may be contributing to the resident's mood or status, and what strategies are needed to improve the outcome," he said.
Ad. Article continues below.
"Additionally, individuals with chronic illness and pain are more likely to experience depressive symptoms.
"We have discovered several residents who find effective pain management strategies through art therapy or meditation, which provide better outcomes of mindfulness, creativity, and learning new skills for residents, as opposed to using medication, which has other adverse effects to the elderly."
Read more: Heartwarming study aims to change your mind about aged care
The QUT study into BallyCara's residents found meaningful relationships between staff and residents, which is something the aged care facility operators say is a contributing factor to the lower rate of depression amongst residents.
"The study clearly demonstrates that staff professional relationships directly ensure the security and wellbeing of residents, because residents feel reassured that staff will represent or advocate on their behalf and trust they will follow through to get things done," Riley said.
Ad. Article continues below.
"Additionally, the residents love having the staff all involved in the SONA program and consequently staff run activities which reflect their own passions and hobbies.
"These meaningful relationships reflect the importance of supportive, loving communities achieving success with happiness internationallly."
Meanwhile, one of the researchers at the head of the QUT study said it highlighted the importance of supporting aged care residents mental health needs.
"The onus is on all if us residents, their families and aged care staff, to do our best to make their last few days, weeks, months and years of life as positive, enjoyable and happy as possible," QUT Associate Professor Evonne Miller told Starts at 60.
The issue of depression in aged care has raised questions for many people, including prospective residents and their families.
Ad. Article continues below.
Particularly if you're looking at aged care for an elderly parent, you want peace of mind to know that their mental health will be taken care of.
But what should you be taking into account when choosing an aged facility?
Well, according to Riley, it's important to find the right fit from a "community support aspect".
"For example, some individuals may prefer a religious denomination to be the priority, or be close to their existing supportive community, church, doctor or family," he said.
"The recipe for the perfect aged care environment is the same as the criteria people set when looking to buy a house."