Is white the new black when it comes to modern gardening?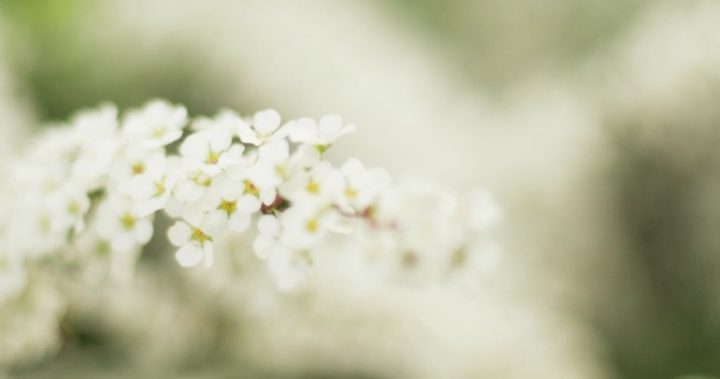 Avid gardeners often fall in and out of love with flower varieties. Nothing is more exciting than when a new hybrid or species comes to town and is ready to try out in your own space, and if you're a sucker for 'new', you might not give too much though to colour scheme.
But one gardener is stripping his garden of colour, opting to only plant white blooming flowers this year. In fact, in an article for Stuff, writer and gardening enthusiast Neil Ross says he reckons a completely white garden is the next big thing when it comes to gardening.
Ross explains that he was inspired to overhaul his garden after stumbling across a stunning walled garden, with walls he described as being "draped in a frosting of climbers" all of which were "reaching out arms of privet-scented powder-puffs".
Pileostegia was the particular plant in this gorgeous garden that made him rethink his own choices.
"You see, for all the bright colours of summer, it's always the quiet corners of the garden tenderly stippled with greens and whites – the sparkle of sun and cool shadows of crimped ferns – which I return to and find the most beguiling." he wrote.
Ad. Article continues below.
So, instead of simply reserving white for the quiet spaces in his garden, he decided to use a combination of whites, silvers and greens to turn his whole garden into a tranquil paradise. But he cautions fellow gardeners not to go overboard as reflective whites, if used too liberally, can give the space a 'glare' that's far from relaxing.
Ad. Article continues below.
And he reckons less is more when it comes to bulky flowers such as hydrangeas and delphiniums, which he says are great for illuminating dark corners with their big, while flowers, but if used to heavily can make the garden look more "mashed potato" than "English flower meadow in midsummer".
Ad. Article continues below.
Ross says Queen Anne's Lace (Ammi majus) works well when used in large numbers and meadowsweet (Filipendula vulgaris) or white thalictrums will give a garden a classy feel. He also recommends breaking up the white colour scheme with some silver foliage.
"[It's] easy to find on various variegated plants, but it's worth sniffing out some more unusual specimens which have strong leaf shapes as well as ghostliness," he says.  Artemisia (Valerie Finnis) and Jerusalem sage (Phlomis fruticosa) are two plants that have the quality he describes.
Ad. Article continues below.
Common white flowers available in Australia that make stunning additions to your white garden include agapanthus, azaleas, grey myrtle, ivory curl flowers, camellias, carnations and Chantilly lace waxflowers. For a more modern look, gardeners could add some desert star (Carissa). Of course, it's worth keeping in mind that some of these plants grow better in certain areas of Australia, so some research is required.
For inspiration, there are many examples of gorgeous white gardens on Instagram. One of the most famous white gardens is the Princess Diana sunken white garden in Kensington Palace, where Prince Harry recently announced his engagement to Meghan Markle.
What do you think of this new trend?
Read More: Facebook changes are coming – what it means for you, and for Starts at 60
Ad. Article continues below.
With Facebook removing news sites from your feeds we ask that you sign up for Starts at 60's emailers here. And to keep us on your wall, join some of our new Facebook groups and clubs:

News Junkies Club – Australia
News Junkies Club – USA 

See news on the change and links to all our other clubs and groups here.