A walk around the neighbourhood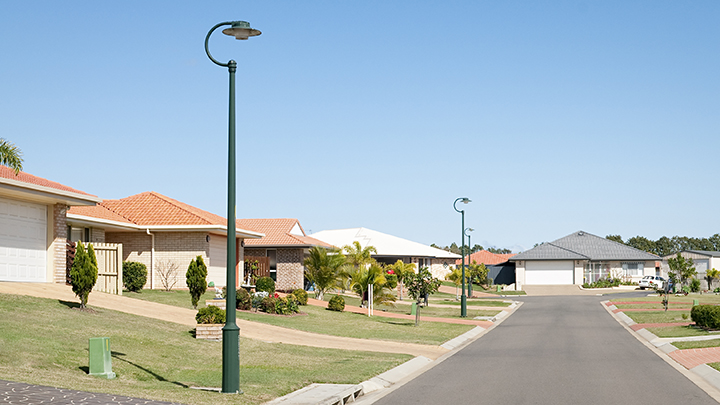 People often worry about moving to a different place in retirement. Many are concerned about living in a street with people who are simply not like them.  As we get older the difference in a neighbourhood is part of the fun but so is being around like-minded people. Today we worked with Living Gems to create a real life snapshot of a lifestyle resort. Do these people sound like the sort of people that could make life a little more interesting?
Frank and Clare, originally from Belmont
Frank and Clare Shaw moved with their standard poodle Piper from the Brisbane suburb of Belmont to Opal Gardens three and a half years ago. Frank, a retired publican, had enough of living in a suburb with too many teenagers and a large home with a quarter acre block to mow. He says deciding to downsize gave them a chance to build up the cash reserves and buy lots of new stuff. Now Clare and Frank enjoy nothing more than a game of golf or bowls and regular trips in their caravan. "We travel with three other couples who live at Opal. We can go away whenever we want knowing our home is secure and the caravan is stored in the onsite compound."
Ad. Article continues below.
Robyn, originally from Lismore
Robyn Tomlinson was home alone in Lismore when she began looking at the options of moving closer to her daughter who lives at Helensvale on the northern end of the Gold Coast.
Robyn's job in newspaper advertising put her in a prime position to research what was on offer; she did her homework and decided to move into Opal Gardens 18 months ago. Robyn now enjoys socialising with her neighbours, occasionally riding her bike around the resort and swimming in the pool everyday. Robyn says she feels safe at Opal Gardens and enjoys joining in with the mah-jong and crafts groups. "I have lots of projects on the go including my family history."
Ad. Article continues below.
Nola and Hedley, originally from Sydney
Nola and Hedley Green put a lot of time and effort into planning their retirement. They used the planning experience Hedley gained during his career in the public service and Nola's office administration expertise to ensure everything went smoothly.
They planned to move from Sydney and retire in Queensland so they flew up to visit the Brisbane Retirement Expo and collected all the information. They came back to Queensland for two weeks to check out the Sunshine Coast, the Gold Coast and Brisbane before deciding on Opal Gardens.
Ad. Article continues below.
Nola and Hedley moved in with their cat Tiga in February 2013 and now enjoy the benefits of the resort lifestyle. Playing mah-jong, working out in the gym and swimming in the pool are among their regular activities but they also enjoy happy hour in the country club, the weekly lunches and being part of the welcoming committee. Nola has now taken up genealogy and is part of the move to start a family history club as so many other Opal residents are keen to investigate their ancestry.
This article has been sponsored by Living Gems Lifestyle Resorts for Active Over 50s. Living Gems is recognised as an international over 50s housing industry leader. Independent industry monitors presented Living Gems with The Best Over 50s Housing in Australasia Award last year. These lifestyle resorts have now been nominated for The Global 2015 Best in the World Awards to be announced in London later this year. Contact us now on 1800 785 594 to discuss the best active lifestyle options for you.