Should adult children keep a key to their parents' house?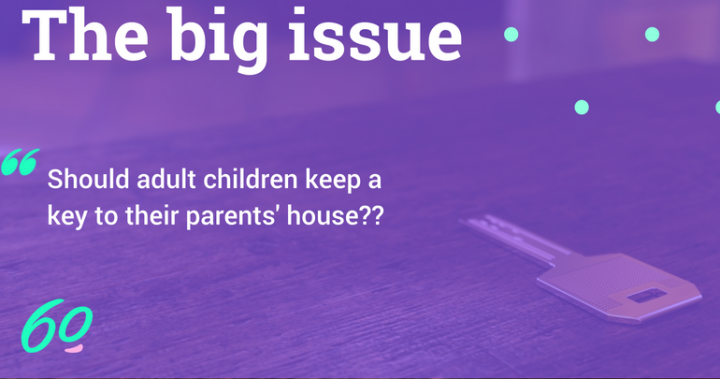 When you had a teenager or teenagers living at home they probably had a key to the family house, which meant they came and went as they pleased – usually raiding the pantry on their way in and out! 
But, once a child has matured and move out, is it still acceptable for them to own a key? And to come and go as they please?
In some families, it's ideal for an adult child to have a key. If a parent is homebound, needs some help around the home, or travels often, it's a great backstop in case of emergencies and just taking care of things. 
As a user wrote on Menopause Matters Forum, "I don't want my kids to think they have to ring or knock. I just want them to walk in whether I am here or not".
"Mine definitely still have door keys and I would hate to think that they didn't! If they are in the neighbourhood and I'm out I like the thought that they can just call in and mooch around for a while," another user said. 
Ad. Article continues below.
If you grew up in a big family, such an attitude probably seems very normal – with multiple kids to each bedroom, and sometimes even in the parents' bedroom, living in each others' pockets is something everyone gets used to.  
But other families value privacy more highly, and advise asking adult children to give some notice before dropping by.
One of the forum's users wrote, "My daughter has a door key. I have never thought about it before, perhaps because there has never been a problem. She has always been considerate. Perhaps ask them to at least knock or ring before they come over."
And other parents of grown-up kids were even firmer on the issue, saying that once their kids are independent adults, they should respect their parents' home. 
"I have said I won't be giving either of them a key but my son says he must have one in case of an emergency and needs to get in quickly," a commenter on Menopause Matters Forum said. "I can see the sense in this but I do like my privacy."
What are your thoughts on this? Do your children have a key to your house?