Debate sparked over whether celebs should broadcast political views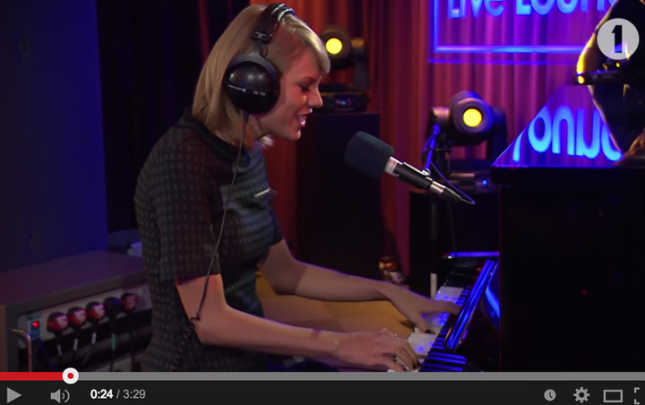 The question asked in my recent article on Starts at 60 'Does social commentary help society or just cause less harmony?' was answered, in my opinion, when I read the story accompanying the headline in a recent Sydney Morning Herald news feed 'Haters hit out at Taylor Swift for Instagram post' the substance of which was the article by Emily Yahr of The Washington Post titled 'This latest Taylor Swift 'controversy' at the end of 2017 really sums up her year'.
Now, despite my age, I am very aware Taylor Swift is a popular singer of today's modern music world and just recently, was pleased to watch online a duet she performed with Ed Sheeran in London as it gave me an idea of her singing style and a small insight into the person she is as a performer, having not had that opportunity previously. She came across as an attractive young lady with a serious approach to her singing and very popular with her audience. My immediate reaction to the headline I was reading was "Why is anyone expressing hate messages to this person?"
This consternation was even stronger when I read the captioned message from the Instagram she posted: "I couldn't have asked for a better year, all thanks to you". A somewhat benign statement, obviously seeking to express appreciation to her fans for supporting her as an artist.
But then the media and internet commentary began. Two postings sum up the mood of most of the comments being reported:
Ad. Article continues below.
"I mean, yeah there were Nazi's and white supremacy marches, and families are being town (sic) apart, and there were mass shootings, and people losing health care, but none of that affects me, so 2017 was great!"
"Gasp. Taylor Swift's personal life was good this year, clearly, she isn't paying attention to the rest of the world. Saying your personal year was good says literally nothing about the social/political state but good to you regarding personal growth."
In reading the full article, it would appear that Taylor Swift is constantly criticised for not taking a political stance on a number of issues but if she did, what would that mean. Her statement on this occasion was totally non-political and she was criticised. If she did make statements on current matters, what would they mean to the general public? Certain groups obviously would like to have celebrities supporting their cause or protest and perhaps this lies behind the attacks on Swift.
With all due respect, she is just a singer who has done surprisingly well with her career and probably many issues of today do not even reach her ears due to her singing and travel commitments. Even if they do, because she is now a famous person, can she not have some personal time and keep her opinions and thoughts to herself, without criticism. Certainly, a means of keeping harmony in her somewhat very public life and social commentary is totally unwarranted and hurtful.
There are two other aspects of this story. First, let's acknowledge that 2017 has been a difficult year, for many reasons and a recent Gallup study in America confirms that 2017 is really worse off than it was 2016, and media has no doubt promoted this finding. The negative movement in wellbeing is reported as being rooted in the current political climate, as well as in partisan preferences, with the drop among Democrats being 0.9 points, more than four times larger than the drop among Republicans at 0.2 points. No doubt there is a mood of unhappiness among many Americans, but surely people like Taylor Swift who perform to bring good feelings and a musical experience are doing something far better than commenting on what is bad, or the many tragedies happening in the our wide world.
Ad. Article continues below.
Second, the question of celebrities making political statements. Putting aside whether or not they are capable of actually assessing a political situation and having a full understanding of all facts about such issues, perhaps one needs to step back and consider how many celebrities, politicians, media people, and others now being exposed post-Weinstein revelations. Some fairly distinguished people. Of special interest on this point, the article also mentions that Taylor Swift "was featured on Time's Person of the Year cover as a 'silence breaker' after her powerful testimony in August, where a jury found a radio DJ guilty of groping her before a concert".
Maybe her Instagram quote did not meet some people's expectations, however, Swift certainly stood up and was counted on this particular occasion on a very topical issue. Still, it makes one think about what one reads in the press and the internet by people of celebrity status, one acquired these days more easily with the help of the internet and social media; and certainly one should consider how much weight one should give any political statement that they make.
I am not against social commentary, as previously declared in my earlier article, and sometimes one can learn a lot and discover important projects that the common people are involved in which provide an opportunity to make a difference. I would like to share two links that may enable you to make a difference in someone's life and at the same time, you continue to enjoy your life. You only have one and it is meant to be enjoyable despite all that might be happening around us. But help when you can. (One, Charity: Water, is from the United States and shows the power of social media for a good cause, the other is Australia's Aussie Helpers.)
What are your thought about celebrities expressing their political opinion? Share your thoughts with us.
Interested in submitting your stories and opinion pieces to Starts at 60 or Travel at 60? You can sign up as a contributor here and join our dedicated Bloggers Club on Facebook.