Let's talk: Can they still call this a Golden Gaytime?
It's been a favourite since 1959 and is a uniquely Australian experience: the Golden Gaytime. But what is it that make a Gaytime a Gaytime?
It's the honeycomb biscuit crumble on the outside, for one. It's the toffee and vanilla ice-cream inside. And the name, of course.
Despite the word "gay" (as implying happiness or joy) falling out of fashion and being picked up to describe homosexual people and later, for younger generations, "lame", the name Golden Gaytime has endured.
After all, who doesn't love asking a non-Australian, "Have you ever had a Gaytime?" and watching the confused expression on their face? Streets has even had a bit of fun with the name over the years, culminating in the "It's hard to have a Gaytime on your own" campaign in the 1980s.
Boxes of the ice-creams bought from the supermarkets feature the words "4 delicious chances to have a Gaytime".
Ad. Article continues below.
But now, Streets has taken the extraordinary step of trying to change – or even improve on – a classic.
Introducing the Golden Gaytime Chocolate.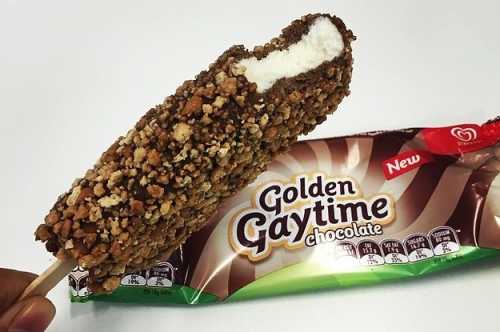 From what we can see, it seems to comprise of vanilla ice-cream dipped in chocolate and chocolate biscuit crumbs.
We're not sure how we feel about this. The ice cream is only available at 7/11 stores at the moment, but will be available at all good corner stores soon.
Tell us, what do you think about the introduction of a chocolate-flavoured Gaytime? Is it possible to improve on perfection?