You can't help but laugh at these sights on public transport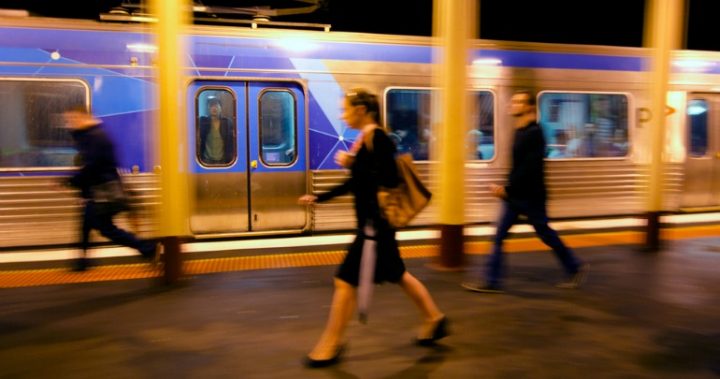 Who says you need a removalist truck to move house? And who wants to pay extra for delivery when you've just paid top dollar for a new item?
For anyone who has owned a ute, anything is possible when it comes from moving items from one location to another.  And if you don't own a ute, or have a mate who'll lend you one for a carton, there are alternatives.
One of the alternatives isn't public transport. A man who recently used a train to move a fridge got copped with a $250 fine for his troubles. Top effort to him, because anyone who's ever moved a fridge will know it's a hard job at the best of times. 
According to Queensland Rail, you aren't allowed to bring things on board that won't fit in luggage racks or under the seats. The same applies in other states too, who make it clear that you can't carry large items, which include bikes, surfboards and the like. Prams and small sporting items (which include golf clubs) may be put in a luggage compartment on some trains.
Ad. Article continues below.
Guy trying to hold a mattress on roof of your car as you drive down the highway in a rainstorm, I have been you. This will not end well.

— Amy Dickinson (@AskingAmy) July 12, 2017
There's been many stories about different ways people get items from a to b. Mattresses on the top of cars, long items sticking out of car windows, even people driving with the boot item when it can't be closed.
In some countries it's not unusual to see a grossly overloaded vehicle. 
Ad. Article continues below.
It's not always large furniture items either. It can be people.
Here's a few other funny things seen on the roads, or rails.
Who says you can't take home furniture on public transport? (Not a good idea at busy times!) http://t.co/Qh5iRaSXR1 pic.twitter.com/ykcJlODfAk

— PTUA (@ptua) May 20, 2015
Ad. Article continues below.
This ute is going flat out! Transporting everything in one load didn't pan out as the best idea. #thinksafety #drivesafe #overloaded pic.twitter.com/lNFQ8FvNId

— Smith's Lawyers (@SmithsLawyers) October 9, 2016
@BBCBreakfast that segment about furniture on Queensland rail, reminds me of the man who tried to take a pony on a train at Wrexham (2011).

— Finlay McBride (@fincra) July 13, 2017
#photoanhour 4pm On a train with furniture ? pic.twitter.com/SkGb6iPW4z

— Confuzzled Bev (@Confuzzledom) May 20, 2017
What's the funniest thing you've ever seen?