Waleed Aly, Steve Price butt heads over Nauru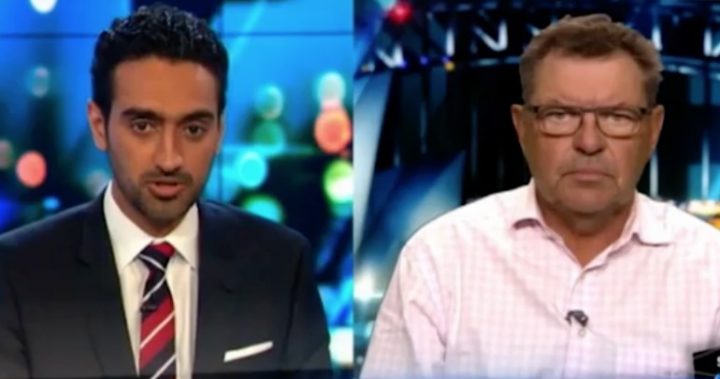 There's been a lot of talk about Nauru in the last few days, and if you watched The Project last night, you would have heard all about it.
If you missed it, the panel began discussing Amnesty International's latest report that compared asylum conditions on Nauru to torture.
The discussion turned into a debate when co-host Waleed Aly and panellist Steve Price disagreed on the issue.
Price said he didn't believe conditions on Nauru was the Australian government's fault.
"Torture is obviously a very inflammatory word," he said
Ad. Article continues below.
"I mean we've got to remind ourselves of a few things.
"The Nauruan Government administers what happens there, the Australian Government provides education and health services."
Aly on the other disagreed.
 "I think it's time to stop hiding behind Nauru, let's not pretend they're in charge of this – they're not," he said.
"We give them heaps of money as part of this arrangement – the High Court has found that we are in effective control of this. This is our problem."
Ad. Article continues below.
As the debate continued, Price argued against calling the detention centre on Nauru a closed prison.
He said it was an "open" one and the asylum seekers could go home at the expense of the Australian Government.
"But if they're going back home to a place they're fleeing, it's not an option," Aly responded.
At one point The Project co-host stumbled over his words while the argument continued.
"I think that you're missing the point," Aly said.
Ad. Article continues below.
But Price wasn't backing down.
"I don't think I am. I like Australia to be described as someone as torturing people, I don't think we are," he said.
The Project debate prompted backlash on social media, with many taking aim at Price's views.
"Steve Price can not like Australia being told they are torturers as much as he likes, that is negligible, we are torturing like it or not," one woman wrote on Twitter.
Others accused Price of being "a right-wing mouthpiece".
Ad. Article continues below.
What do you think? Is Steve Price right? Or do you think Waleed Aly was right?