This joyful childhood game is the latest to be banned for safety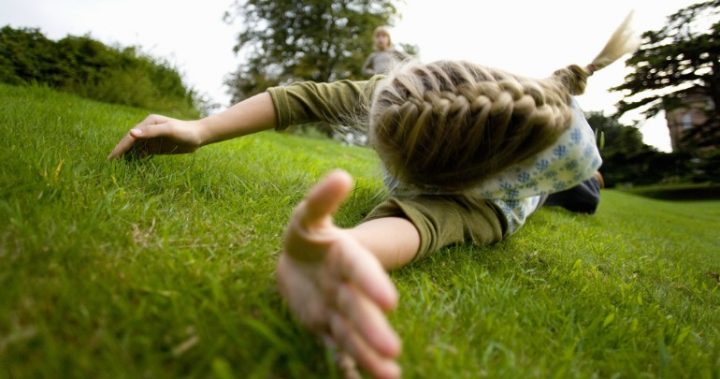 An Adelaide mother is making waves after being left astonished by a safety sign she saw at Mount Lofty Botanic Gardens, banning children from one of the most joyful and innocent pastimes we've enjoyed for generations. 
Cathie Morris was on a recent walk around the gardens when she spotted the sign which reads "For your safety and that of others – PLEASE DO NOT engage in sliding or rolling downhill".
She was surprised, as she had not seen the sign before and thought it was a step too far. 
She posted the image to Facebook with a "feeling annoyed" tag, and the caption, "The "Fun Police" are at it again! Kids have loved sliding down this grassy hill at Mt Lofty Botanic Gardens for years. So sick of all the litigious, risk averse, politically correct madness!!! Rant over…"
Ad. Article continues below.
Evidently her post struck a chord, with plenty of similarly outraged comments from parents whose children have loved the activity. 
Read more: Schools ban classic playground games
"This is basically saying don't have any fun at all, don't even try cos you'll just get in trouble for being active so don't bother disgusting!" wrote one commenter. 
"That is absolutely ridiculous! My girls have loved doing this for years. Definitely the world has gone mad."
Another pointed out that the sign itself is more of a danger than innocent hill rolling:
Ad. Article continues below.
"Please remove that metal star picket as I may run into it and hurt myself. ……as I roll down the hill. (Very frustrating)."
The Botanic Gardens told Today Tonight that it must put visitor safety first, and that the signs went up after someone suffered a broken bone.  
Morris thinks it's a shame that one incident should spoil it for everybody. 
This isn't the first instance of hill-rolling being banned either. Late last year, more than 300 people rolled down the hill at Canberra's Parliament House to protest the lush lawn area being fenced off from visitors!
Channel Seven's Sunrise hosts this morning voiced their outrage as well, saying that rolling down a hill is some of the best fun you can have at any age. 
What do you think, is this going completely overboard, or is it truly unsafe?