Demons, beware! Vatican to launch new exorcism training course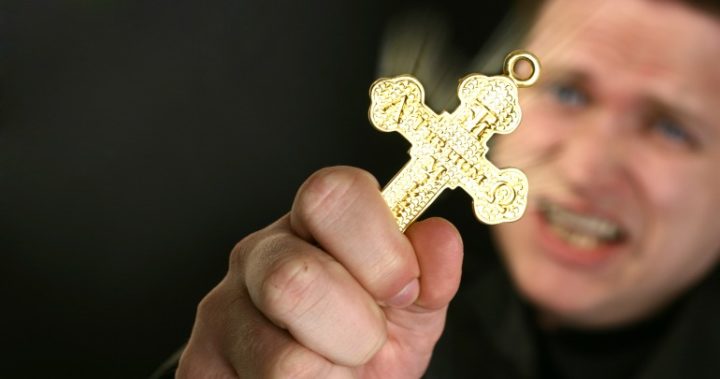 Believe it or not, a rise in demons has resulted in the Vatican going to extreme lengths to rid the world of evil.
The holy city has announced a new exorcism training course to equip priests with the required skills to vanquish demons from Italy and make the world a safer place. 
In a recent interview with Vatican Radio, Sicilian priest and experienced exorcist Benigo Palilla explained that more than 500,000 exorcisms are recorded in Italy each year. What's more, the demand for priests with the ability to perform exorcisms and rid people of evil forces has tripled in a matter of years.
According to Palilla, the popularity of fortune tellers and tarot cards are partly to blame, mainly because they "open the door to the devil and to possession". He said other people are possessed by demons due to both psychological and spiritual problems.
While there are plenty of people who are willing to perform exorcisms both in Italy and around the globe, Palilla is concerned that priests aren't currently receiving the proper training to execute them correctly. "A self-taught exorcist certainly meets errors," he warned. He suggested that as part of training, up-and-coming exorcists would undertake an apprenticeship, similar to that of a mechanic or a butcher.
Ad. Article continues below.
An international course on exorcism is expected to be held in Rome this April at the famous Pontifical Athenaeum Regina Apostolorum to meet the demand. An array of religious leaders from around the globe are expected to attend, with the main goal of the event to "offer a rich reflection and articulation on a topic that is sometimes unspoken and controversial."
If that wasn't enough, it looks like the course will cover an array of topics. "We touch on the most burning issues," Palilla explained. "From the sects linked to Satanism to their story of liberation from their possession."
While exorcisms are performed around the world, Palilla said that many priests weren't sure what to do when faced with such a problem. "We priests, very often, do not know how to deal with the concrete cases presented to us. In the preparation of priesthood, we do not talk about these things," he explained.
It can cost hundreds of dollars to to hire an exorcist to perform an exorcism. At present, exorcism is recognised under the Catholic Church, but must only be performed with permission from within the church.
What do you think? Are you religious? Do you believe in exorcisms and demons?