The ultimate grey nomad checklist: Everything you need to know before you go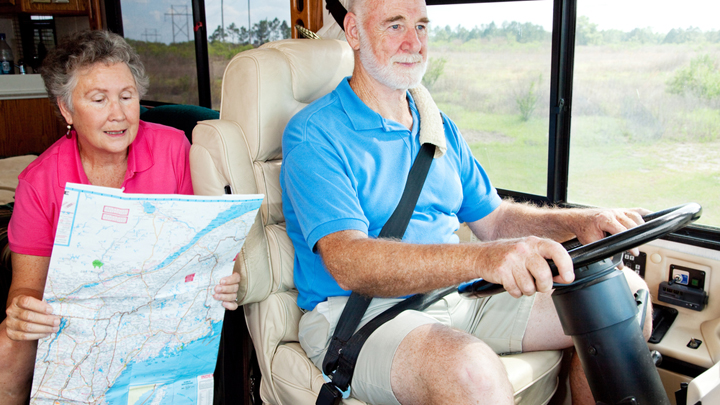 The open road. The feel of the wind in your hair. The absolute freedom. It's a dream of ours, but how can you make it a reality? Becoming a grey nomad is a great lifestyle, but cannot be done without some prior planning. So to help you, we have compiled the ultimate guide if you're considering setting off on your trip of a lifetime.
Take a look at our checklist and tell us if we've missed something!
Where to stay on the road
Sure, you can stay in your caravan but you need to do it legally otherwise you could be slapped with a fine. Staying in caravan parks is great, however it can add up after a while. Luckily, national parks and rest areas are typically free, and have toilets and showers in some instances.
National parks
Ad. Article continues below.
For more information about access, availability, facilities and attractions for the national parks in tourist information centres, you can go on the relevant national park office's website or call them. Here are the National Park websites for each state:
ACT: click here
NSW: click here
NT: click here
QLD: click here
SA: click here
TAS: click here
VIC: click here
WA: click here
Rest areas
Each state has its own policy about overnight stays at rest areas but most have free maps showing where the rest areas are and what facilities are available.
VIC: click here
NSW: click here
QLD: click here
SA: click here
TAS: click here
NT: click here
WA: click here
Ad. Article continues below.
Keep connected
Becoming a grey nomad can be one of the most freeing and invigorating experiences of your life and thanks to modern technology, it's no longer the isolating and (sometimes) lonely activity that it once was. Using devices like smart phones, iPads or tablets, and laptop computers, keeping in touch with family and friends on the road is a button-press away.
1. Blogging
Keeping a blog is an excellent way to keep friends and family in the loop when you're on the road. With free reign of content, you can choose to post about anything you wish – almost like on online diary. Link up with other bloggers to swap stories, get (and give) advice, and find new inspiration for your nomadic lifestyle. There are loads of user-friendly, free blogging platforms online to help get you started.
2. Viber and WhatsApp
Ad. Article continues below.
Boasting free calls, text, and video messaging for its users, Viber and WhatsApp are two great alternatives to Skype. The nifty thing about these two apps are their location-sharing abilities. With a quick tap, you can let your loved ones know your whereabouts – a great feature for those wanting to share their journey on the road. Both apps allow you to send voice clips and photos, while Viber alone gives you the opportunity to send little drawings to your contacts.
3. Instagram
As one of the most popular photo-sharing apps on the market, Instagram is a perfect way to share your videos and pictures with your friends and family. Available on smartphones and tablets, Instagram allows you to 'follow' people and their activity. You can like and comment on media (similar to Facebook) and use 'hashtags' to keep up with certain events. Use the system to your advantage by captioning all of your own images with the same hashtag and asking others to do the same – this will create a unique gallery with all of the contributed content.
4. Trip Advisor
Not every night as grey nomad has to be spent on the road. For those moments when you seek a bed, crave restaurant food, or want to check out the local sites, Trip Advisor is the place to go. This website (and now interactive app) allows travellers to rate and review their experiences at various locations, and share their opinions with friends and family. A great way to track your adventure, this website is highly respected and the sheer amount of users mean that overall ratings are usually pretty trustworthy.
Ad. Article continues below.
Other gadgets to take with you
Health checks
Even if you're feeling great right now, things can change, and you truly never know what could happen on the road. Even though your stresses may falls away once you hit the road, you should still make sure you're in tip top shape to be away from consistent medical care.
Consider:
A full check up with your doctor and assessment of any medications. Ask for advance prescriptions if possible, or organise to have script faxed to a destination
Getting your eyes checked. Your glasses might feel like they're doing their job but your macular is extremely important and all over 60s should have it checked at least once a year.
A full examination and clean of your teeth. There'd be nothing worse than being on the road and having to stop for expensive dental work. Get it sorted before you leave to save yourself a headache (or toothache!) later.
Purchasing a fully equipped first aid kit. You'll be able to find one easily but don't skimp on the important things you may need such as dressing and bandages.
Getting ambulance cover. Check your health insurance policy or travel insurance to make sure an ambulance is included in the price.
Ad. Article continues below.
Bills and letters
It'd be nice to just never have to deal with bills and letters of demand but even when you're on the road, they will still come, and you will still need to pay them.
Consider:
Changing your address to a trusted relative if you will be packing up the house and selling up
Giving a trusted friend or relative access to your mailbox to collect mail if you're not moving
Organising a re-direct on your mail to a professional mail forwarding agency. They can send the letters to any post office near to where you are in Australia.
Buying a diary that you can write down the due dates for all of your bills. Be sure to include your vehicle registration and licence renewal dates in there as well.
Organising direct debits from your accounts – it will make life so much easier on the road. You won't have to think about the bills your organised to be direct debited as the money will simply be withdrawn from the account on the date specified.
Set up internet banking if you haven't already done so. Let's face it: everything's going online, and that includes your bank. You can transfer money, pay bills and look through transactions all in one place, via your smart device or computer – how handy is that?
Storage
Ad. Article continues below.
If you're selling up your house or moving out of a rental or your own place, then you might be wondering what to do with your stuff. No doubt as a 60-year-old, you'll have quite a lot of things that could fill a house and more!
Consider:
Self storage. Many companies have lockable sheds or rooms at a nominal fee that will house your belongings for a flexible period. Self storage has the advantage of being safe and secure, and you can even have insurance for your possessions in case of fire or, very unlikely, theft.
Looking for a self storage facility with good reviews and pest control.
A mobile "box" instead. If you're not sure how much room you'll need or you only have a small amount of things you want to store, then the newer concept of mobile self storage might be what you're looking for. Companies like TaxiBox, ContainAway and SmartBox will deliver a box to your house, whcih you can fill up and then they will take it away to their facility. "Boxes" are 2.4m deep x 1.5m wide x 2.2m high, while standard storage units may range in size from 1×1 metre lockers to 6×9 metre sheds
The perfect caravan
Before anyone sets off on their dream nomad adventure, they need to have one thing… The right vehicle! So before you make any decisions about your nomad caravan, ask yourself these questions, write down the answers, and you have your baseline criteria for finding the perfect rig!
Ad. Article continues below.
Over the next few years of grey nomad life, where do you want to go?
In Australia there in places that are a little hard to get to. This means that if you want to explore places of the beaten track, you'll need a caravan that can get there. Some are two-wheel drives and others are four-wheel drives. You can also get some that are designed specifically for off road travel with great suspension so if you're looking at doing heavy duty exploring you should consider this.
What car are you going to use to tow the caravan?
If you have a car already and you're definitely not considering another one, the load capacity for towing will determine the upper weight and size limit of the caravan you can get. A four-wheel drive is generally the most appropriate vehicle for towing caravans however the size and towing capacity varies from model to model so make sure you know the capacity for your car before purchasing a caravan.
What are you going to take with you?
Ad. Article continues below.
It sounds like something you don't want to think about until you're ready to leave, but this is incredibly important in choosing the right caravan. If you're going to be enjoying adventure activities like kayaking, cycling, fishing or something like skiing, you will need a place to store all of your equipment. Each caravan is designed with a unique point of difference – lots of storage space, a luxurious interior, heavy duty driving or light and economic travel. This means that not all will meet your luggage and equipment needs.
Where will you store it?
There are times when you'll want to stay put and wherever home base is, be it at an caravan park, in your garage, outside the home or somewhere else, you'll need to make sure it can fit. Measure the potential storage spaces and use these as limits to how big it will be. It is also important to consider the locations you will stop at on your journey – some holiday parks may ask for more money for bigger vehicles.
For more information on caravan loan repayments, click here.
Earn money on the road
Ad. Article continues below.
Thousands of Australians are becoming grey nomads, buying caravans and making the "big break". And not all of them are rich. How can they afford to do it? By earning as they travel.
Here are just some of the ways our many baby boomer friends have cast off the shackles of suburbia and hit the road:
Grey Nomads Jobs – research potential jobs from all over Australia such as care taking, house/farm sitting, hostel house parenting, mechanic, and bus driver/tour guide.
No Boundaries – a one-stop information website where you can take a look at the positions vacant section, post in the work wanted section and update your profile with your skills and working conditions and for those of you who enjoy the comfort of a home, check out the house sitting opportunities section.
Outback Now – if you're looking for something a little more permanent, you can try Outback Now. It specialises in outback jobs working on stations or in rural communities and has a range of work conditions and types available.
Ad. Article continues below.
Grey Nomads Employment is another great place to see what kind of jobs are around. It has a fantastic search feature that lets you look for location specific available jobs so you can plan for work at each stage of your adventure.
For other ways to earn money on the road, click here.
Tell us, will you be setting off on a grey nomad adventure soon? Where will you go?