The popular town crier and medieval anecdotes...[Rogue Nomads]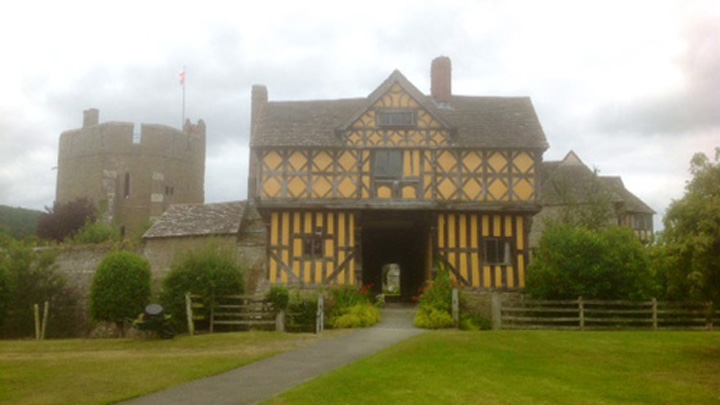 This is part 16 of Dee's grey nomad adventure around Europe. To read her previous instalment, click here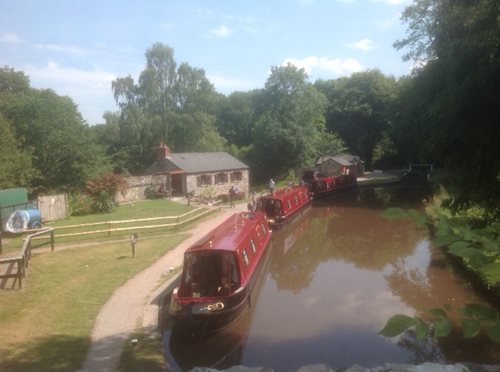 …..where we saw more "black and whites" than ever before, negotiated the narrowest of roads, and started our house/pet sit…
We were booked into a place near Shrewsbury, in Shropshire. The site is on an iron age fort, so it was fine for a caravan park, but no building. Shropshire is full of history, and we intended to make the most of our time there.
So, once settled, we drove to Ironbridge Gorge, which is now a World Industrial Heritage site. There's quite a few museums, but I just wanted to look at the first iron bridge ever built, opened in 1781. It was actually built much like a wooden bridge, each part individually smelted at the local iron foundry. It still looks stunning. The village itself is quaint, but of course, crowded.
Ad. Article continues below.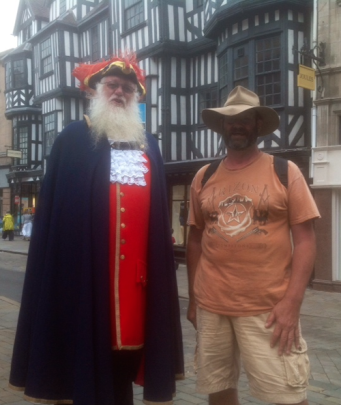 We wanted to go somewhere less touristy, so we went to Stokesay Castle, which isn't a castle, it's a fortified medieval manor house. But it was delightful; we availed ourselves of the audio tour and wandered around looking at all the living, cooking, eating, sleeping areas, plus the rudimentary latrines. The "castle", timber-framed gatehouse and parish church form quite a picturesque group. Built by Lawrence of Ludlow, a very wealthy local wool merchant, he wanted something ostentatious to show his wealth. Although it's 800 years old, not much has changed, although the gorgeous gatehouse was built mid 17th Century. Story goes that Lawrence bought all the local wool at knock down prices, before the sheep had been sheered, and shipped the fleeces to Europe. So he "fleeced" local farmers. But he had his comeuppance when he sailed with a fleet of ships and the ship he was on sank, with all the fleeces and him never to be seen again.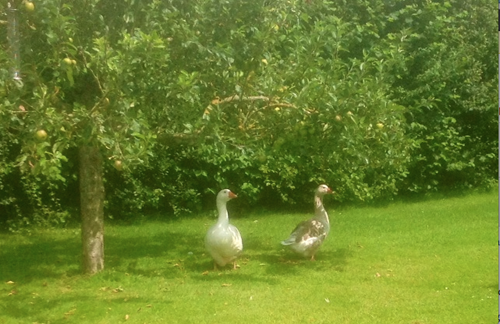 Time was getting on, but we still had one other place to visit: Wroxeter (or Vinconium") Roman City. It closed at 5:00 pm so by the time we got there we only had an hour but with yet another audio tour we easily got around this huge Roman complex, with massive bathhouse. It was once the fourth largest city in Roman Britain, with 5000 citizens. And here it was, set in fields in the Shropshire countryside! Starting off as a fortress, it grew into a city for retired soldiers and traders. It had the most enormous Roman baths right in the centre. Even after the Romans left, the city still thrived for 500 years, gradually declining.
Next day we used the Park and Ride (conveniently next to Tesco), and paid $2.50 return for the two of us to get into Shrewsbury. That's a really good idea, P&R, saves all the hassle of driving in cramped roads and parking fees.
Once in the town, we had a bit of a search for Tourist Information – the signs kept disappearing – but eventually rocked up at the museum which housed it. The ladies were very helpful: mentioned that there was a guided walk in an hour, which included tea and cake with the Mayor… so £10 poorer we headed to Starbucks, then on to the meeting place. Out came this enormous, tall man! 7ft tall and he's the Shrewsbury Town Crier! Dressed to cry too! He towered above Greg who is 6ft 4inches.
So off we go with a few other tourists, listening to the Town Crier's chat (his name is Martin Wood and he has a website!) and it truly was interesting, with anecdotal jokes. In medieval times the roads were named after what was sold on them, so Fish Street was all fish; Butchers Lane, where you could still see the hooks hanging from the beams; Bakers Lane; Milk Lane; all self explanatory. Then I asked what the meaning of Grope Lane was! Apparently all medieval towns have roads named like this, but many changed the street name from Grope Lane to Green Lane in more puritan times. Prostitution even had its own road!
Ad. Article continues below.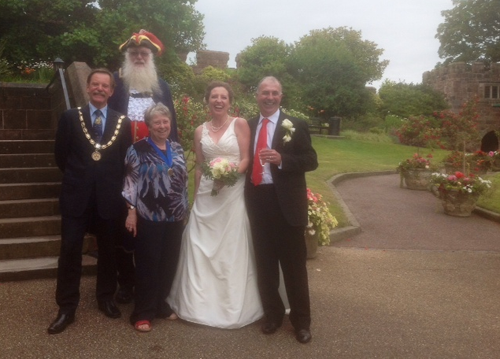 I did learn a thing or two about medieval building methods! These are the original prefabs. All the buildings were "black and whites": oak beams with wattle and daub, and some had had early hand made bricks in them. But the way they did it – the builder measured out the area for the house and then talked with the person he was building it for, before going out into the forest, cutting down the trees and actually building the whole house frame in the forest. Once he'd got approval from his client, he disassembled it and transported the whole thing to the site and re-erected it on the site. If someone wanted to move location to another town or area, they would get a builder in to disassemble the house, pulling up all the building stakes and moving it to the new site. This is where the saying "up stakes and move" comes from. Another interesting thing is that although there's been some strong earthquakes in the area, causing some later houses to collapse, none of these medieval houses suffered.
We then went on to the castle where we had tea and cake and listened to the Deputy Mayor waffle on, same anecdotes! All good fun. As we came out we became part of a wedding group, I took some photos of the group with the Town Crier; funnily enough the couple getting married are Australian! As we walked back into town I asked Martin the Town Crier what got him into the job. He said originally it was a 3 hours-a-week job on weekends and he learned how to project his voice after he was a bit player in a movie filmed in Shrewsbury with Edward Woodward. He phoned Edward Woodward and asked for his help and they became good friends. It fits in well as he is carer for his ailing wife. Martin has taken part in Town Criers' competitions for years. The Americans love him (I love hearing other peoples stories)!
Next day we were off to Pudlestone, which is near Leominster (pronounced "L'minster"). Booked to do a week's house/pet sit, an easy drive until we got to the road in to their house: single track, the hedgerow brushing each side of the car and caravan! At one point a sheep and two lambs ran for about half a mile in front of us before they found an escape. The GPS didn't help and we ended up at the wrong house…so our host came and found us.
Lovely people; delightful family. Two dogs, three cats, two geese, lots of chooks and four horses! Not to mention their amazing children. But that's for next time…