The four most important things to do before becoming a grey nomad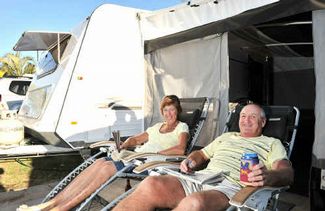 The nomad dream is one that so many Australian people, single or in a couple, want to fulfil at some point throughout their life. A particularly large number of these people are actually in their 60s and above – claiming the name, "grey nomads". It's an exciting prospect, living a life free of commitments to explore this great country (or others) and relax, but the one question that people have is: where do I start?
From the grey nomads who have blogged for us, who we've met, who we've interviewed and who we've spoken to, we've found that there are four really important things that they need to sort out before they can hit the road.
1. Downsize 
Making the decision to become a grey nomad means making the decision to move out of the family home – temporarily or permanently. There are a few things that people can do. You can sell the home, clear it out and live only in the caravan with no permanent "base". You can clear out the home, buy a caravan and rent the home, so you still have somewhere to come back to. Both of these options require downsizing on a fairly large scale. Before Janne and Geoff began their grey nomad journey they had to go through the downsizing adventure – you can read about it here. The other thing you can do is downsize into a smaller home like a village or retirement community and have a base there so you can easily lock up and leave knowing your house and belongings are safe and secure. This is something that you have to work out what is best for you.
2. Fund it 
Ad. Article continues below.
This is the tricky step – how do you fund this dream? Because although the costs of running a caravan are significantly lower than running a household, they are still expensive. You have to budget for things like the purchase of your caravan, insuring it, electricity and gas on site, filling the water tanks, maintaining it and keeping it roadworthy, then on the road there is food, accommodation (powered sites with full facilities) plus lifestyle costs including technology, telephones, internet, activities, park entry fees, road fees (in some cases), storage back home, mail redirection and fuel. As long as you know all of the costs associated with being a grey nomad and you've budgeted and planned accordingly, you will be fine. If you're concerned then take a look at this comprehensive list of things to remember by clicking here.
3. Plan it 
This isn't planning your dream trip around Australia, this is planning the logistics. Where does your mail go? How will you pay bills? Is internet banking set up? Have you got all of your important documents copied with a family member and with you, have you given power of attorney to someone you trust in case of emergency? Before you go anywhere for any amount of time, you need to make sure everything is in order. A great checklist and some handy websites can be found by clicking here.
4. Buy it 
This is the most exciting step – buying your caravan! This in itself is a minefield – what do you look for? What is important? What do you need? There's a couple of guides to help you make sure you make the right decision for you. Here are five questions you need to ask yourself before you choose a caravan – if you can answer all of these then you have a starting point when it comes to having a list of needs and wants.
Ad. Article continues below.
If you've got your living arrangements sorted, the budget planning done, the logistics and planning done and you've found your perfect vehicle then you're ready to head off on your dream adventure.
Tell us, do you have ambitions to try living the grey nomad life? Share your thoughts in the comments below…